Google: EU group urges privacy policy change pause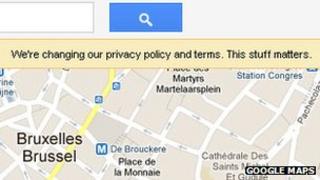 Google has been asked to suspend changes to its privacy policy by a group of EU data protection regulators.
Google plans to unify 60 different privacy policies across itsproducts from 1 March.
In a letter to the search giant, the EU group called for a "pause" so it could complete its analysis of the change.
The call came fromThe Article 29 Working Party- an advisory body which includes representatives from all EU data protection authorities.
In the letter sent to Google chief executive Larry Page on Thursday the group said: "Given the wide range of services you offer, and the popularity of these services, changes in your privacy policy may affect many citizens in most or all of the EU member states."
The groups said it wished to "check the possible consequences for the protection of the personal data of these citizens in a co-ordinated way".
"In light of the above, we call for a pause in the interests of ensuring that there can be no misunderstanding about Google's commitments to information rights of their users and EU citizens, until we have completed our analysis," the letter said.
Google's plans to change its privacy policies have raised concerns among some privacy campaigners, but the company says it is improving user experience and making its policies simpler and easier to understand.
In a statement Google said: "We briefed most of the members of the working party in the weeks leading up to our announcement.
"None of them expressed substantial concerns at the time, but of course we're happy to speak with any DPA [data protection authority] that has questions."
The Article 29 Working Party says it is an "independent European advisory body on data protection and privacy".
According to the Reuters agency, the European commissioner in charge of data protection, Viviane Reding, welcomed the move.
The EU Commission recently set out plans for new pan-European data protection rules.