Kim Jong-il tweet: South Korean Park Jeonggeun held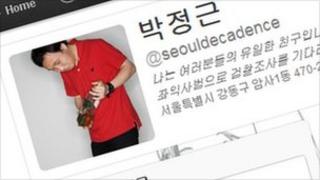 Amnesty International has called for the immediate release of a South Korean man detained for repeating North Korean government messages on Twitter.
Park Jeonggeun, a political activist, re-tweeted the message "Long live Kim Jong-il" from the communist country's official Twitter account.
He said he intended to ridicule the leader, who died in December, but could face up to seven years in jail.
Amnesty accused South Korea of "failing to understand sarcasm".
"Imprisoning anyone for peaceful expression of their opinions violates international law, but in this case the charges against Park Jeonggeun are simply ludicrous and should be dropped immediately," said Sam Zarifi, Amnesty's Asia-Pacific director.
Mr Park is a member of the South Korean Socialist Party, which openly and frequently criticises the North Korean regime.
"My intention was to lampoon North Korea's leaders for a joke," he told Amnesty. "I did it for fun."
He stands accused of breaking the controversial National Security Law (NSL) which bans "acts that benefit the enemy".
Mr Park added that as well as re-tweeting North Korea's message, he also uploaded North Korean propaganda posters - with some alterations.
"I replaced a smiling North Korean soldier's face with a downcast version of my own face, and the soldier's weapon with a bottle of whisky."
He has been held at Seoul Detention Centre since 11 January.
'Intimidate'
"Park is a member of a party which open criticizes North Korea but the absurd case against him in not an isolated issue," added Mr Zarifi.
Amnesty and other human rights advocates argue that the NSL is being used to limit free speech in South Korea.
"The NSL has a chilling effect on freedom of expression," Mr Zarifi continued.
"It is not used to address threats to national security, but instead to intimidate people and limit their rights to free speech."
The South Korean government has denied the law is being abused.
Censorship issues surrounding Twitter have escalated after the micro-blogging service announced it would beginblocking tweets in certain countries.