Kinect for Windows gesture sensor launched by Microsoft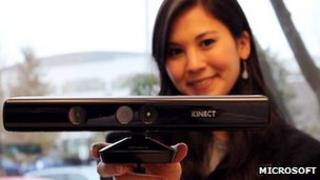 Microsoft has launched a version of Kinect, its voice and motion-controlled sensor, to work with Windows-based PCs.
It joins a previous version which was designed for the company's Xbox 360 games console.
The new hardware features a "near mode" which allows it to track movements as close as 40cm away, compared to 50cm on the original model.
However, the updated device costs nearly twice as much as the Xbox 360 version.
The sensor's UK price is yet to be confirmed, but in the US the Windows-compatible hardware's recommended price is $249 (£157).
By comparison the Xbox version is sold for $130 (£82).
Microsoft links the increase to enhanced features - including "skeletal tracking" and improved speech recognition - as well as the cost of developing a device that works across several systems, rather than a single games console.
Scratched surface
Kinect for Windows' general manager Craig Eisler told the BBC that the company also subsidised the Xbox version and recouped the money from games and other related sales.
"It's been just over a year since we launched Kinect for Xbox 360, and we're only starting to scratch the surface of what's possible," said Mr Eisler.
"The sky's the limit. We're doing a testing and adoption programme with 300 companies around the world. They're doing things that we would never think of - from the oil industry, to training, to manufacturing."
Suggested uses include allowing surgeons to navigate body scans in an operating room by waving their hands, and letting young children control educational programs by pointing at a computer screen.
'Technology winner'
Kinect for Windows faces competition from other products on the market.
These include the DepthSense, a camera made by SoftKinetic.
The device can track movement as close as 15cm, less than half Kinect's minimum distance. The Belgium-based firm says that makes it more suitable for users sitting at a PC.
"Nobody knows yet who the technology winner will be," said Virgile Delporte, SoftKinetic's vice-president of marketing and communications.
"The technology we have is really next generation. Kinect is not future technology. It's great for today, but a lot of people want the next-gen things right away - so they come to us."
Microsoft's Mr Eisler said he believed Kinect's "near mode" capabilities were more than sufficient.
"We think 40cm for desktop-near use will enable a tonne of scenarios," he told the BBC. "We're comfortable with it."
Other companies with rival products include Extreme Reality, Mgestyk and PrimeSense.
World record
Kinect holds the world record for being the fastest-selling consumer device in history, shifting over eight million units between November 2010 and January 2011.
Since launch it has been adapted by independent developers - even if Microsoft's terms of use initially forbade it.
In Spring 2011, however, Microsoft decided to release a software development kit which allowed coders to build their own software on the platform.
It has resulted in several innovative uses, including a control mechanism for a search-and-rescue robot, and a scanner to create blueprints for 3D printers.
Recent figures suggest more than 18 million devices have now been sold.