EU probes Samsung over possible patent rights 'abuse'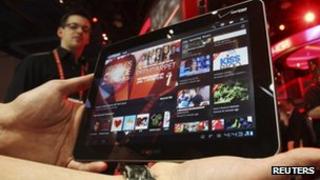 Samsung's patent deals are being looked into by the European Commission.
Competition regulators are investigating whether the firm used some of its intellectual property rights to "distort competition in European mobile device markets".
The commission says it wants to know if Samsung has failed to live up to a commitment to license key technologies to rivals.
The action comes as the company is involved in patent battles with Apple.
The South Korean firm says it will co-operate with the inquiry.
"Samsung is confident that its approach regarding the enforcement of its 3G standard-essential patents is consistent with all applicable antitrust principles," a statement said.
"We believe that, upon the scrutiny of the facts, the commission will conclude that Samsung Electronics has acted in compliance with EU competition rules."
The inquiry centres on Frand commitments - a promise by industry players to license innovations that are essential to an industry standard on fair, reasonable and non-discriminatory terms.
This means that the owner cannot discriminate who gets to use its invention and that its fee cannot be excessive.
The commission notes that in 1998 Samsung offered an "irrevocable commitment" to the European Telecommunications Standards Institute to respect Frand terms.
But the regulator says that: "In 2011, Samsung sought injunctive relief in various member states against competing mobile device makers based on alleged infringements of certain of its patent rights which it has declared essential to implement European telephony standards."
Lost lawsuits
Samsung has made more than a dozen patent claims against Apple in Germany, the Netherlands, France and Italy relating to 3G-essential technologies.
So far the courts have ruled against Samsung in the cases - in part because it was felt that the firm had failed to live up to its Frand commitments.
However, patent consultant Florian Mueller, who has blogged about the various cases,notes that: "The European Commission can't wait until Samsung finally wins a ruling based on such a patent and enforces it, potentially causing irreparable harm."
A spokesman for the European Commission confirmed that it had instigated the proceedings. He said that the commission had not received an official complaint from Apple or any other company about the matter.
Counter-attacks
Samsung has also been on the receiving end of patent and design-rights litigation.
Some analysts view its lawsuits as a response to Apple's legal attack.
The iPad-maker succeeded in having two of its competitors' tablets banned from sale in Germany last year forcing a redesign.
The ruling against the Galaxy Tab 10.1 was upheld by the Düsseldorf Higher Regional Court today.
Experts say the commission's intervention is likely to further complicate matters.
"It is really difficult for Samsung to have the commission wading in when none of its competitors have made a complaint," said Vicki Salmon, a member of the UK's Chartered Institute of Patent Attorneys.
"At a time when there is a lot of litigation between companies it doesn't help to be on the receiving end of an official inquiry."