Self-steering bullet researched by US weapons experts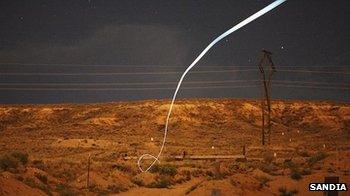 A self-guiding bullet that can steer itself towards its target is being developed for use by the US military.
The bullet uses tiny fins to correct the course of its flight allowing it to hit laser-illuminated targets.
It is designed to be capable of hitting objects at distances of about 2km (1.24 miles). Work on a prototype suggests that accuracy is best at longer ranges.
A think tank says the tech is well-suited to snipers, but worries about it being marketed to the public.
Work on the project is being carried out by an Albuquerque-based subsidiary of defence contractor Lockheed Martin on behalf of the US government.
The current prototype involves a 4in (10cm) bullet which includes an optical sensor in its nose to detect the laser. This information is then processed and used to move motors within the bullet which steer tiny fins, altering the ammunition's path.
"We can make corrections 30 times per second," said researcher Red Jones.
"That means we can over-correct, so we don't have to be as precise each time."
The team has carried out both field tests and computer simulations, and says "engineering issues" remain. However, they add that they are confident of bringing the product to market.
Experts say there would be great demand for the innovation on the battlefield.
"One of the big successes in Libya was that the accuracy of the munitions used was much higher than in previous campaigns," Elizabeth Quintana, senior research fellow at the Royal United Services Institute think tank told the BBC.
"97% of Nato's weapons hit their target to within about 2m (6.5ft). But that was achieved through air munitions.
"This would be a revolution for ground forces, and may help further cut down on civilian casualties in future conflicts."
Unlike most bullets the self-guided prototype minimises spin, aiming to fly like a dart.
Normally small calibre rifle bullets are spun at over 2,000 revolutions per second to stabilise their flightpath and maximise speed.
But theteam's patent applicationnotes that previous attempts to create self-guiding rapidly-spinning bullets ran into the problem that the electronics required became too complicated.
To simplify things the researchers moved the bullet's centre of gravity further forward than it would normally be.
When combined with the fins this caused it to only spin a few revolutions per second, making it easier to steer. Because the bullet's motion settles the longer it is in flight, the researchers say its accuracy improves at longer ranges.
Tests with commercially available gunpowder have measured the bullet reaching just over twice the speed of sound (2,400ft per second), which is still below standard military speeds.
But the researchers say they are confident that they can increase its velocity with customised gunpowder.
A press releasesaid that: "Potential customers include the military, law enforcement and recreational shooters."
That concerns some industry watchers.
"The public may be uncomfortable with the implications of people being able to use this without needing to have a sight line to the target - you could see this having terrorist uses," said Ms Quintana.
"There's talk of selling to recreational hunters, but I would imagine the authorities would want to limit the public's access to this kind of technology.
"But it would be useful for law enforcement - particularly in hostage situations."
Related Internet Links
The BBC is not responsible for the content of external sites.