Music licensing firms target personal web users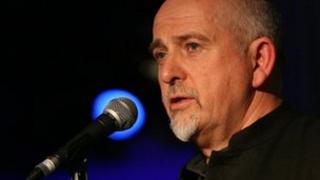 Two music licensing businesses have launched rival services targeted at individual users, small businesses and not-for-profit organisations.
For a fee, Cuesongs and Ricall Express offer permissions to use well-known background tracks for videos posted to sites such as YouTube and Facebook.
They could feature on wedding videos or online company adverts.
Analysts say the companies fill a gap in the market, but warn it will still be difficult to convince people to pay.
App developers
Both the UK-based firms launched their new businesses at the Midem music industry festival in Cannes.
Cuesongs is backed by the singer Peter Gabriel and offers recordings from Sony Music and several independent rights holders. It is operating an invitation-only trial for the time being.
Ricall's new division builds on an existing service offered to the broadcast and gaming industries. It includes tracks from EMI Music as well as independent publishers.
Examples of the customers they hope to attract include couples wishing to add music to their wedding video before uploading it to the internet, film festival entrants, small businesses making web adverts, school clubs and smartphone app developers.
"By introducing low prices and easy online access, Cuesongs is creating a new market for music, to satisfy a huge untapped demand that can begin to provide new income streams for artists," said Mr Gabriel.
Ricall's commercial development vice-president, Phil Bird, said: "There have been many automated sync platforms over the years.
Commercial activities
"However, none have managed to find the holy grail of selling well-known commercial music for the 'long tail' of users."
The firms suggest that if their "micro-usage" services prove popular then more rights holders will be willing to license their material.
The Music Publishers Association trade body welcomed their entry into the market.
"These services look to provide proper controls and safeguards for creators, whilst at the same time easing access and simplifying the process for those small businesses wanting to use music," said the MPA's spokesman, Will Lines.
"We are not talking here about individual web users paying to upload a clip of their child dancing to the radio as a YouTube clip.
"Rather, this is aimed at the thousands of small businesses using social media in their commercial activities."
'Moral weight'
Industry watchers say that many potential licensees have been perplexed by the complexity of rights management since different copyrights exist for the lyrics, score and recording of a song. That means that three or more parties might have to give permission before a track could be used.
They say the one-stop shop nature of the new services solves that problem, and will give extra moral weight to music labels' demands that unlicensed material be removed from the web.
However, many users may still decide to avoid payments.
"If the target clients post videos via YouTube, they may well already be covered to an extent by Google's blanket licences with the big record companies and collecting societies," said Chris Cooke, co-founder of the business music network CMU.
"That said, under Google's agreements rights owners can exercise a veto to have any video that 'syncs' their music removed at any point, even though they are being paid a royalty every time that video plays. A licence will remove that risk, and allow video makers to post their content beyond YouTube.
"Whether bedroom video makers will immediately see that as a benefit worth paying for I'm not sure, though more established independent directors may be more easily convinced."