Megaupload users face data deletion US prosecutors warn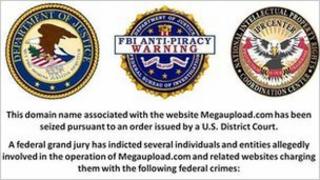 US prosecutors have said that data belonging to Megaupload users and stored by third parties could be deleted as soon as Thursday.
Users have been unable to access data since the file-sharing service was raided.
The warning was made in a letter filed by the US Attorney's Office.
Megaupload's lawyer Ira Rothken told the Associated Press that at least 50 million users had data which could be deleted.
Mr Rothken said that freezing of Megaupload's funds meant it was unable to pay those who were storing its data.
'Cautiously optimistic'
In the letter US prosecutors said that the data which might be deleted was being held by the storage companies Carpathia Hosting and Cogent Communications Group.
"It is our understanding that the hosting companies may begin deleting the contents of the servers beginning as early as 2 February," it said.
The letter explains that in its investigations the US "copied selected data" but did not remove any servers from the premises of either company.
It goes on to note that the data "remains at the premises controlled by, and currently under the control of Carpathia and Cogent.
"Should the defendants wish to obtain independent access... that issue must be resolved directly with Cogent or Carpathia."
However, in a statement Carpathia said: "Carpathia Hosting does not have, and has never had, access to the content on Megaupload servers and has no mechanism for returning any content residing on such servers to Megaupload's customers.
"The reference to the 2 Feb 2012 date in the Department of Justice letter for the deletion of content is not based on any information provided by Carpathia to the US Government."
The company said that users seeking to recover their data would need to contact Megaupload.
Cogent has not responded to an email sent by the BBC.
Earlier Megaupload's lawyer, Mr Rothken had told the Associated Press that he was "cautiously optimistic" that a deal could be done to save the data from being wiped.
He said that the information would be needed by the defence.
Legitimate data
Megaupload was shut down on 19 January.
It had about 150 million registered users, making it one of the most popular file-sharing services in the world.
US authorities are seeking to extradite founder Kim Dotcom, also known as Kim Schmitz, and three other defendants from New Zealand to the US.
Prosecutors have accused it of costing copyright holders more than $500m (£320m) in lost revenue.
But a number of users have said that they have been unable to access legitimately uploaded material as a result of the legal action.
After the shutdown one user tweeted, "I'm vehemently against copyright infringement: the files I lost were created & owned by me for my job."