Ubuntu swaps application menus for HUD control system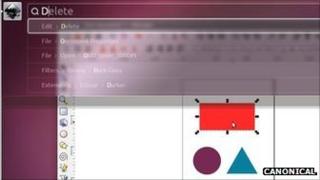 The Ubuntu operating system is to replace its application menus with a "head-up display" (HUD) box.
Users control the HUD interface by typing in the command they want carried out.
Developers of the Linux-based software say they will initially offer the HUD as an option, allowing users to "hide" their menu bars.
They say that using the HUD is faster than "mousing through a menu" and makes applications feel more powerful.
The changes wererevealed on a blogposted by Mark Shuttleworth, the lead designer at Canonical - the London-based firm behind Ubuntu.
"It's smart, because it can do things like fuzzy matching and it can learn what you usually do so it can prioritise the things you use often," he wrote.
"When you've been using it for a little while it seems like it's reading your mind, in a good way."
To operate the HUD, users can guess the name of the command they want, rather than having to memorise each one.
For example, if someone types "settings" into the panel it can work out that the command they want is "preferences".
Mr Shuttleworth admits people may find it harder to discover the full functionality of a program if they do not have a menu system to hunt around, but he says other benefits make up for this loss.
"We observe people staying more engaged and more focused on their task when they can keep their hands on the keyboard all the time."
He added that removing menus also saved spaced on the computer screen.
Historical relic?
Graphics-based menu-controlled systems have been used on computers ever since Xerox's Palo Alto Research Center invented the interface controls in the 1970s.
However, other firms have also implemented alternative controls.
Perhaps best known is Microsoft's "ribbon" which allows users to add commonly used functions to horizontal strips which appear above their documents.
Mr Shuttleworth acknowledges that this makes commands very visible but describes it as a "space hog".
Mobile device interfaces, including Google's Android, Microsoft's Windows Phone 7 and Apple's iOS, have all replaced PC-style menus with icon-driven controls - but the software they offer is usually more limited in scope than that of a desktop computer.
However, one interface expert highlighted the challenges facing Ubuntu's HUD.
"Intent-driven interfaces, those that can predict your wants and wishes without the need to hunt and peck your way around a vast menu system, certainly appear to be the holy grail of easy-to-use interaction paradigms," said Brian Blau from the technology consultancy Gartner.
"The HUD will need to develop though, there will be challenges for advanced power users - they will want more data faster - as well as novices who will need training and better discovery tools."
Canonical says that its ultimate goal is to include voice recognition, gesture- and touch-based controls.
In the meantime Mr Shuttleworth says that the company will promote apps that take advantage of the HUD feature after it launches in April.
"I have a feeling this will be a lot of fun in the next two years," he wrote.