Backlash over Google move to change privacy settings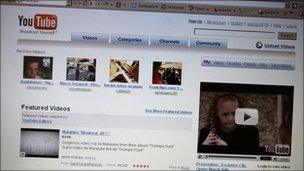 Critics have hit out at Google's decision to merge personal data from YouTube, Gmail, search, social network Google+ and dozens of other services.
Forthcoming changes to privacy settings will see data shared across all these platforms. Users cannot opt out of the changes.
Google said the update would offer more relevant searches.
But critics say it has more to do with the data battle the search giant is waging with rival Facebook.
The changes take effect from 1 March
Alma Whitten, Google's director of privacy, product and engineering, said the changes were necessary to simplify current privacy settings.
"We're rolling out a new main privacy policy that covers the majority of our products and explains what information we collect and how we use it in a more readable way," she said.
The firm also laid out how it will improve search.
"If you're signed into Google, we can do things like suggest search queries, or tailor your search results, based on the interests you've expressed in Google+, Gmail and YouTube," the firm said.
Earlier this month Google integrated Google+ more closely with search, a move which Twitter said would have a negative effect on its own search rankings.
Data is a hugely valuable commodity as firms seek ways of making money from users' web habits with ever more targeted adverts.
But it can be controversial, said senior Ovum analyst Andy Kellett.
"Something I am interested in this week, I might not be interested in next week. I use Google's facilities as both a private individual and in my professional life. Which bit are they going to give back to me?" he said.
The biggest problem he sees with the changes is the fact that people do not have the option to opt out of them.
"If it simplifies things then that is a positive, but it does appear to be a case of if you don't like it, you have to walk away from it. Google has become a way of life for some people. They can't do without it even if they don't like the direction it is going in," said Mr Kellett.
Google's new mega privacy policy will combine more than 60 different policies into one. That itself is dangerous, thinks campaign organisation The Open Rights Group (ORG).
"Does this simplicity come at the expense of strong boundaries between Google products. Will details that users thought might be private on one be revealed in unexpected ways on another?" asked Peter Bradwell, a ORG campaigner.
Facebook is also moving to merge people's data, with tweaks to how user information is displayed. Its new feature, Timeline, shares users' past history on the site in a more readable way. While it does not expose any more information that was previously available on its traditional profile page it does makes it easier to view older posts.
Currently the system is voluntary, but Facebook is making it compulsory.
"It fits a pattern where these big firms are slowing redrawing privacy boundaries. There are certain principles, such as user control and consent, that should come first," said Mr Bradwell.
On the Timeline changes, he said: "It should really be up to people how they display their information."
No details about how Google's new privacy policy will work are yet available but its previous forays into data sharing have not always ended well.
The launch of its first social network Buzz saw it rolled it out to all Gmail users without asking permission.
It led to a string of privacy investigations from regulators around the world and forced a radical rethink in the search giant's privacy strategy.
"You'd hope they had learnt lessons from Buzz," said Mr Bradwell.
The UK's Information Commissioner's Office warned that any changes must be communicated to users.
"It is important that technology companies, such as Google, are aware of the privacy concerns that exist when behavioural advertising is used to target particular content at individuals. Failure to inform users about changes may not only lead to a loss of trust in the company, but could also mean that they are failing to comply with the requirements of the Data Protection Act," it warned.
Related Internet Links
The BBC is not responsible for the content of external sites.