Apple loses appeal over Galaxy Tab 10.1 in Dutch court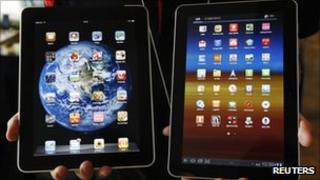 A Dutch appeals court has rejected Apple's claim that Samsung's Galaxy Tab 10.1 infringes its design rights.
It follows a ruling last year in which a judge threw out Apple's call for an injunction against its rival's tablet in the Netherlands.
This latest decision comes a week before a German appeals court is set to rule on a design right-related injunction granted in the country.
EU courts may reach different conclusions, but must explain why.
The latest rulinghas been posted in Dutchon the web.
It explains that the Hague-based judges noted that the backs and sides of Samsung's tablet differed from the iPad's, and that the two firm's models differed in thickness - allowing informed users to distinguish between the companies' devices.
It said Apple had sought a wide definition of its design rights, based in part on the idea that its model looked like a "mirror-smooth lake" onto which an image appeared.
However, the Dutch court ruled that Apple could only claim a narrower definition since the "characteristic elements" of its design had previously appeared other works including a1994 concept videoproduced by the Knight Ridder newspaper group and a2004 US patentfiled in the name of inventor Helmers Ozolins.
Patent consultantFlorian Mueller's bloghighlights that in December a California-based judge had used similar grounds to reject an effort by Apple to seek a design patent related injunction against Samsung in the US.
Stand-off
Samsung told the BBC that it welcomed the latest judgement.
"This ruling again demonstrates that Apple's products simply do not warrant the intellectual property protections that it believes," a spokeswoman said.
"Samsung will continue to take all appropriate measures, including legal action, to ensure continued consumer access to our innovative products."
Apple said it had nothing specific to say about the ruling.
However, it referred the BBC to a previous statement which said: "It's no coincidence that Samsung's latest products look a lot like the iPhone and iPad... This kind of blatant copying is wrong and, as we've said many times before, we need to protect Apple's intellectual property when companies steal our ideas."
Dusseldorf Higher Regional Court is likely to consider the latest ruling when it considers Samsung's appeal against a German sales ban imposed on the Galaxy Tab 10.1 last August.
The South Korean firm redesigned its tablet and in November released a new model, the Galaxy Tab 10.1N.
Apple is also seeking to ban the newer model. A ruling is scheduled to be given in early February.