Vimeo unveils design revamp posing challenge to YouTube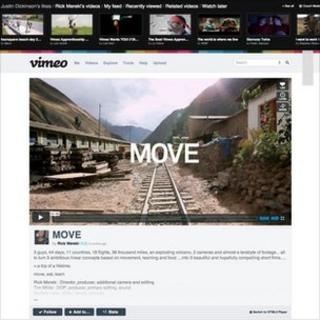 Video-sharing website Vimeo has launched a new look as it aims to improve the "discoverability" of its content.
The site, which attracts 65 million unique users a month, has invited existing users to join a closed pilot while the final touches are fine-tuned.
The redesign could help the site gain ground on YouTube.
The Google-owned site announced that it deals with four billion video views every day.
Central to Vimeo's changes, the company said, were improvements in how content within the site is found by visitors.
Users are now recommended related videos based on their "likes" and other algorithms.
Updates to the site can now be tracked in a revamped news feed allowing users to follow subjects, keywords and individual users - much like Facebook or the blogging service Tumblr.
High-end professionals
Vimeo argued that the redesign - which has so far been well received by the site's regular users - stands out from YouTube thanks to its "focus" on content.
"A lot of people come to Vimeo because they care about how content is created," Deborah Szajngarten, Vimeo's communications director, told the BBC.
"That's everyone from the soccer mom who doesn't want ads over their children's video, to high-end professional content creators."
Ms Szajngarten cited Vimeo's embeddable video player - which she said did not and would not carry advertising - as crucial in her firm's tussle with Google's site.
"What we see a lot of is bloggers that have accounts in both places.
"On their website, the player they embed is almost always Vimeo because they know it will look better."
Media analyst Theresa Wise told the BBC that Vimeo should avoid looking to compete with YouTube, and instead build on attempts to attract
"Vimeo can't compete head on, there's no gap.
"But if you're looking to build a career, you're maybe making more of a brand statement by putting yourself on Vimeo - saying 'I'm a professional filmmaker - take notice'.
"That's a smaller market, but it's a significant one."
Sixty hours
In a blog post on Monday, YouTube said users uploaded more than 60 hours of footage per minute - an increase of 30% in the last eight months, and a 10-fold increase since 2007.
Google redesigned YouTube's homepage to offer more emphasis on "channels" - curated lists of videos on a chosen subject area.
YouTube celebrated dominating the bigger market by putting togetheronehourpersecond.com, a website depicting some of YouTube's biggest recent hits, such as Rebecca Black's Friday, Fenton the Dog and the Nyan Cat.
The figures come despite widespread upset at the site's recent major redesign in December last year.
In contrast, Vimeo's design had until today remained mostly untouched since 2007.
"We are a much bigger company than we were then," a Vimeo spokeswoman told the BBC.
"We kind of saturated our existing infrastructure as we added features and new things to do.
"What this rewrite will do is make it quicker, make it easier for us to update stuff, and it will make the whole site run much much faster."