Storage sites unnerved by Megaupload action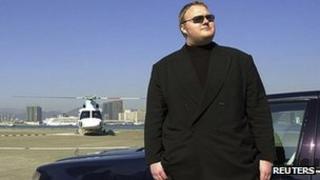 The arrest of Megaupload's founders has led to other file storage sites taking action in an apparent attempt to protect themselves from legal action.
Filesonic has disabled its sharing functions, allowing users to access only their own files.
Uploaded.to has blocked US access to its site entirely, with a message saying "sorry about that".
Experts said that the sites were attempting to show that they were taking piracy seriously.
"If those websites are found to be communicating the works - ie facilitating sharing - then that's the key risk in terms of criminal liability," said Adam Rendle, a copyright lawyer from London-based law firm Taylor Wessing.
Filesonic, which is based in the UK and Hong Kong, has not released a statement about its move to block sharing.
However, customers visiting the website were greeted with a message stating simply: "All sharing functionality of Filesonic is now disabled. Our service can only be used to upload and retrieve files that you have uploaded personally."
The closure of Megaupload last week has created a huge reaction across the internet.
The site, which had in the region of 50 million visitors a day, was said by the US Federal Bureau of Investigation (FBI) to be run by individuals who were engaging in a "racketeering conspiracy" and "conspiring to commit copyright infringement".
Megaupload has defended itself by saying that copyright holders had mechanisms which allowed the removal of infringing content - and that legitimate material was shared on the site.
Uploaded.to, which offers a service in which uploaders can receive money depending on how many people download their files, remains fully operational - but US visitors can no longer access its servers.
Other so-called "digital locker" services, such as Switzerland-based Rapidshare, have defended themselves by pointing out their anti-piracy measures.
A Rapidshare spokesman toldtechnology news website Ars Technicathat it was "not concerned or scared" about Megaupload's closure.
'High-profile large actions'
The BBC contacted other digital locker sites - including those run by Apple and Google.
None would provide comment on any action being taken on their own services in the wake of Megaupload's closure.
However Mr Rendle said that it was unlikely that these competing websites would fall foul of the law.
"The two key differences are the scale of unauthorised sharing, and secondly what seems to be a complete absence of legitimate uses," he said.
Michael Moore, a partner at law firm Marks & Clerk, said that Megaupload's closure suggested that copyright enforcers were moving away from targeting individual file-sharers as they had done in the past.
"This is all a trend of going towards the facilitators, the organisers of this," he told the BBC.
"That's certainly something we're going to see more of. They're really trying to create an image of this guy and tarnish the reputation of file-sharing.
"I think in the future we will see a small number of very high-profile large actions against these facilitators.
"Hand-in-hand with that we will see this public relations battle to show people that file-sharing is bad."