CES: Lessons from Las Vegas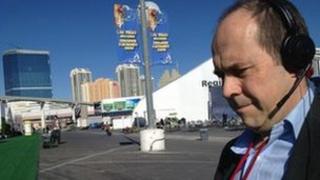 I'm at the airport in Las Vegas, heading home after a couple of days at the Consumer Electronics Show.
As ever, this show has provided a colourful, noisy and confusing experience with so many products clamouring for attention that it is hard to pick out a theme.
But let's have a go - in no particular order, here are some lessons I've taken away from Las Vegas.
Tech is booming
These are gloomy times for the global economy and for Las Vegas - a boom town for so many years that has suffered badly in the bust. You wouldn't know that this week, with cab drivers and casinos celebrating as 130,000 visitors poured into town for CES. Microsoft may be pulling out next year, but others are already rushing to take its place. Companies big and small seem convinced that the pace of innovation is accelerating - and that they can help to pull the economy out of the downturn.
Keep taking the tablets
Most of the tablet computers launched at CES 2011 to take on Apple's iPad flopped - but that didn't stop manufacturers getting off the canvas, dusting themselves down and starting all over again. Most of the square slabs of black plastic and glass looked identical to me - but two stood out. The Sony Tablet P, a nifty two screen device that folds away to be slipped into your pocket, and the Qooq, a wonderfully Gallic tablet designed for the kitchen. I liked this one because the man showing it to me was only too happy for me to slosh red wine over it to prove its resilience.
4G is better and cheaper than hotel wi-fi
We hired a 4G dongle for our stay, and it proved a great investment. From bitter experience, I know how flaky hotel wi-fi can be if you're using it to broadcast or to send video and audio back to base. Purists will sniff at American 4G, saying it does not match up to international standards - and it's true that the download speeds of around 5Mbps I was getting were nothing to write home about. But the key was that upload speeds were around the same - more than enough to broadcast live in quality audio onto various radio programmes. The one time I tried that on the expensive hotel wi-fi, a four second delay on the line sent me scuttling back to 4G.
Small firms have more ideas than big ones
While the giants of the technology world make most of the noise at CES, it's tiny firms which seem to have the most interesting ideas.
There was the Cube 3D printer, which allows you to set up a mini manufacturing plant in your back bedroom and the Olloclip snap-on lens which lets your iPhone take wide-angle or fisheye photos.
There's also Nest, a Silicon Valley firm making a smart thermostat which learns about your home and habits and adjusts the heat accordingly.
You don't have to turn up to be big in Vegas
While just about every big brand in technology comes to CES to strut its stuff, there are notable exceptions. Amazon, whose Kindle Fire appears to be enjoying extraordinary sales, was nowhere to be seen. And of course neither was Apple which has always been sniffy about trade fairs, preferring to be the centre of attention at its own carefully stage-managed events.
But its presence was still felt - not just in the seemingly endless stands showing off iPhone cases and other accessories, but in thousands of visitors tapping on their iPhones or navigating via the CES iPad app.
At CES Unveiled, the preview event where selected exhibitors get an early chance to impress, one thing stood out - almost every company appeared to be using an iPad to demonstrate its product. Companies spend a small fortune to be here - but Apple can look on smugly, knowing its brand is being polished without any expenditure.
The weather is terrible and you're having a horrible time
Actually don't even bother saying that to your family and colleagues back home. CES is an exhausting experience but a feast of gadgets in Las Vegas is always going to sound better than London, Liverpool or Leeds in January.