Gorilla Glass 2 promises thinner mobile device screens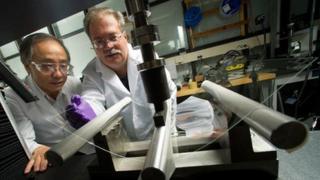 At a trade show designed to celebrate gadgets, it may seem odd that Corning, a 161-year-old materials-based firm, is attracting more excitement than most.
However, the New York-based manufacturer's Gorilla Glass is firmly centre stage at this year's Consumer Electronics Show in Las Vegas.
Hewlett Packard caused a splash when it unveiled a thin ultrabook using the material for its lid and palm rest, rather than aluminium or plastic. It boasted that the choice made its laptop scratch-proof.
But what is really drawing attention is an announcement that Gorilla Glass 2 is on the way.
Thinner screens
Corning says that its reformulation has made its product tougher.
It says that means that manufacturers now have the choice of developing more robust devices or using screens 20% less thick than before, but with the same resistance.
At a time when tablet, laptop and smartphone manufacturers are competing to shave off every millimetre they can, Corning admits that the second of the two options is likely to prove the most popular.
It adds that as an extra benefit, display images should become brighter and touch sensitivity should be improved.
Japanese rival
Corning's first-generation product has been used on more than 575 distinct products by 33 manufacturers, covering a total of more than half a billion devices worldwide.
While that makes it the industry's biggest player, it does not have the market to itself.
Japan's Asahi Glass launched a rival product - Dragontail - last year. Analysts at IHS iSuppli have suggested it is used by Apple's iPad 2.
Samsung's flagship Android handset, the Galaxy Nexus, has also been confirmed as using an alternative product. The South Korean firm would only say that it is a "fortified glass".
The upgrade may help Corning address the competition and extend its reach to televisions, large format touch-displays and even cars.
"We have a futures group that looks at architecture, appliances and automotive," James Hollis, director of Gorilla Glass worldwide sales, told the BBC.
"We do have some collaboration going on with auto manufacturers as well to investigate if we can bring that toughness and the ability to design things thinner, lighter and so better fuel efficiency as a potential benefit for auto manufacturers."
Creating compression
Glass is, by its nature, a brittle material that is strong when compressed, but fragile when put under tension.
Gorilla Glass addresses the weakness by subjecting its product to a chemical process known as an ion exchange. This replaces atoms on the top of its material with larger counterparts.
"Imagine that the atoms along the surface are tennis balls and then we put it in a bath that lets you change some of the tennis balls for bowling balls - that's where the compression comes in," says Donnell Walton, manager of worldwide applications engineering at Corning.
"So the glass structure was designed physically by altering the chemistry, such that it would be more receptive of those bowling balls to replace the tennis balls.
"Sodium ions in the glass are the tennis balls and the potassium ions coming in from the bath are the bowling balls."
Cracked displays
The original Gorilla Glass was launched in 2007. Despite its much-lauded resilience, many thousands of smartphone owners have still suffered smashed screens after dropping their handsets.
Well aware of the problem, Corning has been carrying out tests into what it terms "fractology".
"A lot of times, what we found is how things look like they broke is not how they broke at all," says Mr Walton.
"One of the most prominent failure modes of a phone is sharp impact damage. Though it may look like it broke from the edge, it actually fell on a rock. Even on a carpet, it may fall on something harder than the glass, causing it to fracture.
"So finding out what the average damage origin depth was and then designing the glass around that was one of the biggest findings for handhelds."
Gorilla Glass 2 improves on its predecessor by increasing the amount of compression created by the ion exchange and making the protective layer deeper.
Smash-proof
The firm says it has already begun shipping panels of the new glass to manufacturers. Products using the material will appear later this year.
However, if, as expected, most firms opt for thinner units, then it still does not address the issue of shattered screens. So will Gorilla Glass 3, or some later iteration, ever offer the promise of smash-proof handsets?
"There was a device mentioned recently that was dropped from almost orbit and didn't crack," says Mr Walton.
"The way that glass breaks is through the flaws that are there. So we are working very hard to contain the flaws that you do generate and to try to keep those flaws from developing in the first place.
"We are progressing closer to that. I wouldn't make a time-limit prediction, but that is definitely what we are working hard on."