CES 2012 Blippar 13 January diary: Organised chaos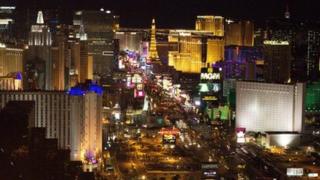 The BBC followed the fortunes ofBlippar, a UK start-up which crossed the Atlantic to be a part of the 2012 International Consumer Electronics Show (CES) in Las Vegas.
After winning a competition in November, the Blippar team was sponsored by the government'sUK Trade and Investment(UKTI) agency. They were awarded free accommodation and a prime-site stand.
It was a perfect spot for the company, which produces augmented reality apps, to stand out.
As the week progressed, the team shared their thoughts on the event in the following blog.
14 January - Blipped out!
Many said the final day at CES would be quiet - and whilst some businesses had departed from Eureka Parkzone on Thursday- how wrong they were!
Friday was yet another frenetic day of activity and the sheer positivity of both exhibitors and visitors continued to shine through.
International TV crews, brands, retailers and manufacturers were once again in eager attendance at the stand highlighting the importance of and commercial coming of age of business-to-consumer augmented reality for mobile devices.
Perhaps the easiest way to sum up the whole CES experience from the Blippar perspective is to quote one visitor to stand #73410 who proclaimed us "the most blipping awesome thing" he'd seen at CES this year. Not bad given the prestigious company we have been keeping this week!
It's testimony to the UK tech startups themselves but also to UKTI who worked tirelessly to feed the Blippar stand, and those of the other UK start-up businesses around us with an awesome volume of visitors, leads and future advocates.
So as yet another CES finishes for the many established consumer global brands, here's hoping that with continued hard work, this will hopefully have been the first of many more for our company...
Huge thanks to the UKTI for providing us with the opportunity to show off in Vegas and thank you also to everyone who took the time to drop by our stand.
See you next year!!
13 January - Organised chaos
CES is the perfect example of organised chaos.
Tens of thousands of people running around like headless chickens and yet all is in order.
Most CES stands have pretty girls showcasing cool gadgets. At the blippar stand: cool gadgetry? Tick. Pretty faces? Not so much - so the BD team raised their game today and choreographed a Blippar swan-dance demo routine which was well received (and certainly relieved our own demo monotony)
Today we found time to visit the main central hall where all the big players are showcasing computing and entertainment hardware. Ultrabooks are a big talking point with Toshiba, Samsung, Acer, Lenovo all launching their Macbook air-style models. Most of them are very light weighing 1.7kg approximately.
TVs are another big craze. They are getting thinner, smarter, faster, bigger and more real every year. The TV which made the Blippar team drool is LG's 4mm thin TV. Simply stunning. Samsung also launched some great large screen OLED TVs.
Besides TVs, there are a lot of smartphones competing for the thinnest and fastest titles with Motorola's Droid 4 and Huawei handsets looking particularly impressive to us.
The UKTI deserves a shoutout generally for being a brilliant supporter for Blippar at this event - tirelessly introducing us to key individuals and businesses during the show.
It helps to have had so many important contacts pointed specifically in our direction. Our tweets and press mentions have rocketed sky-high over the last week.
It is totally impossible to go around the entire of CES and it is utterly exhausting. In our opinion, there is a huge opportunity for coin-based foot massage kiosks next year; CES can have that idea for free.
12 January - Limos and quadricopters
Yesterday, en route to CES, we saw a man in a diving suit sitting on the roof of a Lenovo branded moving limo, working on a laptop. No-one really blinked. I guess they were advertising some stability feature?
So it was another fun afternoon for the Blippar team entertaining the crowds through augmenting ('Blipping') great British brands like Marmite and most people loved it. Some visitors even tasted Marmite out of curiosity after seeing the secret recipes although it would be fair to say they were less keen on the product than the tech, in the main!
And some more time for exploring: a highlight of yesterday's recce was stumbling across the Parrot's AR Drone which is an iPhone-controlled quadricopter. The AR drone is faster and smoother this year with built-in HD camera recording. Very cool stuff (and just what every quadricopter needs).
Automatic robot vacuum cleaners are also getting good attention from buyers and seems they will 'sweep up' in 2012 (sorry).
The most common type of product being showcased in CES is smartphone accessories, especially covers. It's a huge industry and there are hundreds of companies marketing why their case is better or cooler.
The whole trend clearly shows how precious phones have become - vital, yet fragile bearers of uncompromisable data.
And of course, a form of personal expression through fashion accessories. Fujitsu have found a nice niche with the introduction of a range of normal-looking yet entirely waterproof phones.
We ended Day Three with a Matchbox 20 concert at Qualcomm party celebrating with our new investors.
11 January - Buzz of the big match
CES officially opened to the masses today - with thousands turning up in scenes reminiscent of a big football match.
The Blippar team was alert and ready for the onslaught and we found ourselves surrounded by crowds of journalists, big brands, marketing agencies and general tech enthusiasts.
All were eager to demo, test and interrogate - but many also wanted to just 'coo' at some of our cooler demos - all of which, our visitors were excited to realise, worked on their own devices.
The UKTI stand was next to Blippar and they seemed particularly impressed with the buzz we were getting - justification of our win in their start-up competition and the prize of sponsoring our presence here, we hope!
Today the team also found a bit of time to explore other emerging start-up technologies.
Particularly impressive were displays of human hand motoring robotics, and collaborative television watching with Shelby.
Kinect, who we saw yesterday, is not the only brand doing gesture recognition; similar gesture sensor technology is being harnessed by few other startups like Zienon to change TV channels or manage volume control just by moving your fingers in thin air.
Brilliant cubes-based robotic toys startup called Cubelets are making robot construction kits for kids whereby each cube can add new shape and artificial intelligence to the toy.
Off to bed now - absolutelycream crackered!
10 January - Vegas baby!
So the Blippar team has arrived at CES in Vegas to take our place among our kindred nerds. Excited - if tired - after the long journey out.
The show officially kicked off yesterday with press conferences from LG, Samsung, Nokia and more - but throughout the day, thousands of visitors from different parts of the world were pouring in to Vegas to see the trend-setters of the technology world in preparation for the exhibition's start tomorrow.
Exhibitors, including us, were busy setting up stands to get ready to fight for the attention of almost 140,000 tech-savvy visitors who are expected over the next few days.
The place is already teeming and bubbling over with energy.
Microsoft boss Steve Ballmer's massively anticipated keynote received a mixed response - highlights were interactive television using Kinect, and the Nokia Lumia 900 smartphone (which looks pretty much the same as Lumia 800).
But on a less positive note, Microsoft's announcement that they are quitting CES next year is being interpreted by some punters as CES's dying dominance of the tech industry.
Well, watch this space throughout the week and we'll give our verdict - for what it's worth!
After a busy day of setting up our stand in the UK showcase - as the UKTI start-up representative - and getting ready for the visitor onslaught, our evening ended with a few European tech startups hanging out in a nice bar at the Venetian sharing and cheering our experiences of the day.
Recession? What recession? Vegas, baby...!