CES 2012: New technologies unleashed at show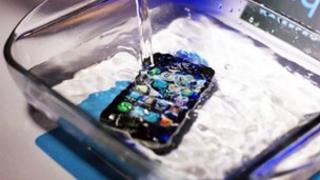 The first technologies have been unveiled at the 2012 International Consumer Electronics Show (CES).
Waterproof smartphone coatings, diet-aiding armbands and a social network that warns drivers of the latest police speed-traps were all on show.
Microsoft's chief executive Steve Ballmer will present his company's last keynote at the three-day event.
The firm's pullout has led several attendees to speculate if the trade show will be a smaller event in future.
But if that is CES's fate you would not know it from the throng of press, analysts, executives and PRs packed into a huge hotel conference room for the first teaser event - CES Unveiled.
Cooking tablet
Some 70 companies were selected to take part in the "sneak peek" preview ahead of the show's official launch.
Among them is Qooq - a French company that has designed a tablet computer for the kitchen.
The Linux-based device is splash-proof, is held off the ground by feet that allow spilled liquids to run underneath, and can shrug off temperatures of up to 60C (140F).
For a subscription fee users are offered access to a multimedia library of thousands of recipes by French chefs which can be customised to suit the user's kitchen skills and dietary habits.
The device is already on sale in France and the firm is at CES to announce an English language version due for release in September.
"We know that people bring hi-tech devices to the kitchen - with ours there is no risk," says Hubert Bloch, the firm's chief marketing officer.
"In the future we think people will have multiple tablets. The Qooq can be splashed, used with dirty hands and it's not a problem - just sponge it and it's clean again."
Chinese ultrabooks
CES's organiser, the US's Consumer Electronics Association (CEA), predicts more than 50 new tablets will be launched before the end of the week to take advantage of a rapidly growing market.
Its analysis partner GFK Boutique Research has predicted 96 million of the touchscreen devices will be sold before the end of the year, a 65% rise on 2011.
The CEA said it also expects between 30 to 50 new ultrabooks to be unveiled at this year's event.
The Chinese computer maker, Lenovo, used the Unveiled event to show off its first take on what it terms a "business class, commercial grade" slimmed down laptop - the ThinkPad T430u.
Users can choose to buy the 14in (35.5cm) computer with an added NVIDIA graphics card and a relatively large 1TB rotating hard disk drive.
This contrasts with rivals' designs which usually have lower graphics specifications and come with lower capacity - albeit faster - solid state drives.
"The requirements for a 14in ultrabook to be classed as such is that it be no thicker than 21mm - and we're right on that," said J Wes Williams, worldwide product marketing director for the firm's Thinkpad Edge business unit.
"Could we get thinner? Absolutely we could. But we would do that by soldering on SSD drives which are much more expensive and we would have to take away the discrete graphics.
"And talking to our customers they want that feature and function."
The model is due for release in the second half of the year following the release of Intel's Ivybridge chip
3D printing app
The CES show is far from being just about new types of computer. In fact much of the technology is based on mixing smartphone apps with other technologies.
One example is Bodymedia which is showing off the latest version of its health monitoring system.
Its armband uses sensors to collect 5,000 bits of data about the user's body every minute. They are used to calculate activity levels, calories burned and how well its owner is sleeping at night - all of which can be monitored through a smartphone app. Its developers say the aim is to help people lose weight rather than become hypochondriacs.
Sculpteo has also unveiled what it claims is the first ever app to turn the shape of a human face into a 3D printed object.
The software is used to take a photo of the profile of a person's face. The image is then used to create ceramic objects such as a vase, whose contours mimic the shape of the person's face. The firm will then manufacture and deliver the object if the user wishes to purchase it.
Speed-trap alert
Perhaps a bit more practical is Escort Live - a social network for motorists.
The app communicates via Bluetooth with Escort's existing detectors to record sites where speed cameras have been installed or there are police officers using laser guns or radar equipment.
These alerts are then "transmitted to the cloud" and shared with other subscribers to warn them of potential speed-fine "threats".
"Now before you even leave your driveway you can know the best route to take," said PR director Ron Gividen.
"We have some heat coloured imaps and icons so within an instant you know: red - the speed recording equipment was detected within the last 30 minutes; orange - it's been within an hour; yellow - an hour and a half; then after an hour and a half it disappears off the map."
The system has just been launched in the US and the firm says it is exploring expansion into the Western European market.
Waterproof coating
The Unveiled showcase is a frenetic affair with delegates bumping into each other as they crowd round the most exciting stalls under the hall's bright lights.
Shortly after it ends, another showcase begins about three miles away at the southern end of the Las Vegas strip.
The Startup Review is the brainchild of the public relations agency, Social Radius. For the third year running it has organised a showcase of new tech firms including its own clients and other firms who sign up hoping to attract attention.
One of the most exciting exhibitors this year was Liquipel. The California-based firm has developed a "nano-coating" which makes electronic devices waterproof.
The formulation is applied in a vacuum chamber to both the interior and exterior of smartphones and other mobile devices and is not visible to the human eye. Its developers say they are already certified to protect some devices submerged 1 metre underwater for up to half an hour.
"Poolside, splashes, talking in the shower on your phone - it's not a problem at all," says co-founder Kevin Bacon.
"We are trying to create key relationships with major manufacturers - and there are some that we are working with right now.
"But we are also the only ones to make this available on an after-market scenario - there is no other way for you to get this on your existing device without going through us."
As ground-breaking as the technology sounds, the firm already has competitors.
The UK's Oxfordshire-based P2i has developed a similar process based on research by a Durham University scientist. US-based Zagg is also set to distribute a solution by its partner HzO.
All three will get a chance to pitch their rival solution when the floor of the Las Vegas Convention Centre opens its doors for press day on Monday.
A total of 2,700 firms will take part, with others - such as the video games company Nintendo and chip designer Arm - holding additional invite-only briefings.