Which? suggests websites 'undervalue old laptops'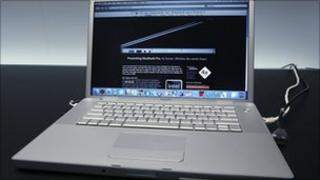 Anyone cashing in their old laptop would be better off doing so privately rather than via websites trading in second-hand hardware, Which? suggests.
The consumer watchdog conducted an investigation of five such websites, requesting valuations for five laptops including a 2009 MacBook.
Prices ranged from £34 to £202, with one firm offering just £67 for a MacBook.
Equivalent models fetched a far higher price on eBay.
High demand
Which tested five websites - webuyanylaptop.co.uk, buymylaptop.co.uk, sellyourlaptops.co.uk, laptoptrade-in.co.uk and Asda's Tech Trade-in.
Only three of the above offered a price for the MacBook - which was originally valued at £1,125.
Buymylaptop offered Which? £202 for it, Laptoptrade-in came back with an offer of £90, while Sellyourlaptop was only prepared to give the watchdog £67. Which? said an equivalent laptop could have sold on eBay for £350.
Sellyourlaptops.co.uk consistently offered the lowest prices of the five. Director Sean Colson told the BBC it had been a victim of its own success.
"We didn't expect the demand we got, which was 6,000 requests a month. We had to put the prices down to silly money as the person behind it - a sole trader- couldn't cope," he said.
He said that the company has since been radically overhauled and is now offering people the option to get quotes from local dealers.
"We have 600 dealers on board and there are 4,500 possible dealers out there," he said.
Each will offer their own quotes and pay sellyourlaptops.co.uk an annual fee.
'Honourable company'
Each website operates in a similar way. Users have to enter details about what they want to sell - in the case of laptops they need to include detailed information about the manufacturer, processor, memory, screen and hard disk size.
They are then sent a padded box in which to post the equipment. According to Which? many of the websites offer lower quotes when they actually see the machines. It did not test this part of the process.
All the websites said that they wiped all data from the hard disk before selling machines on.
Laptop trade-in.co.uk fared best in the study, generally offering the highest prices for laptops. It was the only one of the five to offer a free pick-up service.
"We are proud of what we do. We are an honourable company and we try to do things the right way," director Mike Harrup told the BBC.
He said that it was unfair to compare his company with eBay.
"The prices we offer would be much less because we are buying not selling. Often the machine we end up is worth nowhere near what the website quotes," he said.
"We are happy with the prices we offer. Often on eBay laptops are sold with a warranty and we get no warranty," he said.
He added that he did not understand how Which? had received a £90 valuation for a Macbook because the website did not offer valuations for Apple products.
When it comes to technology, people are better off selling privately, Which? concluded.
"People should be aware that the amount offered by these companies is not always the final amount you receive. Selling an old laptop online can be an easy way to recoup some cash, but it pays to shop around and try online auction websites to find the best deal," Which? computing editor Sarah Kidner said.
The watchdog also found that many people were prepared to give away their old laptops. In a survey of more than 500 people, it found that 44% donated their unwanted laptop to a family member.