Changing channels - can Silicon Valley transform TV?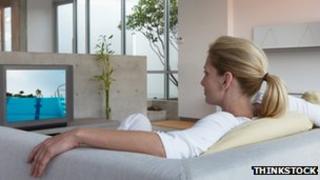 What is the problem with television - and has Silicon Valley got the answers?
For the last decade we have been told that TV is ripe for an internet revolution, but so far the attempts of major software firms like Google and Microsoft to change our viewing habits have made little impact.
But in California I've just met a man who thinks he knows where they have gone wrong.
"Silicon Valley is only now beginning to understand what TV is about," says Maksim Ioffe. "It's a 'lean back' experience, not a 'lean forward' experience as web surfing is.
"You're seeing these growing pains as the hi-tech culture tries to digest and understand television."
Mr Ioffe, whose start-up company Dijit has its own plans to revolutionise TV, is a typical example of the modern Silicon Valley entrepreneur. Born in Eastern Europe, with a computer science degree from a top East Coast American university, he ended up working for technology firms on the West Coast.
Now he has his own business, born just two years ago, with a small office in San Francisco and big plans built around the idea that television does indeed need fixing - even if Silicon Valley hasn't quite got the hang of it yet.
"The consumer experience kind of blows, to use an American expression," he told me. "Companies don't have the best interest of consumers at heart, they don't care about interoperability."
He says there is plenty of choice in terms of content but far too much complexity, with consumers ending up with a stack of set-top boxes, a pile of remotes and no idea how to find anything worth watching.
Dijit's answer is to give the consumer more control via a second screen - the smartphone or tablet computer that many now have on their laps as they lean back and watch TV. Last year Dijit produced an app which, coupled with a little piece of hardware, turns your phone or tablet into a universal remote control.
On top of that it allows you to search all of the content available from your TV or movie service, see what your friends are recommending on social networks, and then press an on-screen button to play the content you choose.
It's one of a number of applications trying to latch on to this second screen social TV phenomenon - in the UK, Zeebox is another. But it's differentiated by the deals Dijit is cutting with hardware manufacturers like Motorola, which is building the app into its latest Xoom tablet.
Mr Ioffe says his is "a small company trying to do something ginormous" - and it might appear unlikely that Dijit will be the firm that proves that Silicon Valley can kick-start the new television revolution.
Apple may have the best chance in the race to create next generation TV - "they understand the consumer the best" - but he is confident his firm can make a difference.
Dijit is heading to Las Vegas next week to unveil a new product at the Consumer Electronics Show, a tiny firm competing with giants like Sony and Samsung to change the world's most powerful entertainment medium. Which takes a lot of chutzpah, but luckily that is a commodity still in plentiful supply in Silicon Valley.