Android and iOS activations soar on Christmas Day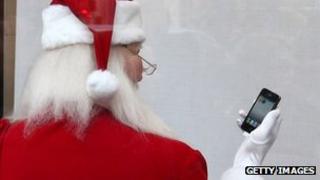 More than 3.7m Android devices were activated over the Christmas weekend, Google has revealed.
The detail was tweetedby the company's senior vice president of mobile, Andy Rubin.
Independent estimates suggested 6.8 million Android or Apple iOS devices were activated on Christmas Day - more than double last year's number.
Industry experts believe the rise is partly because entry-level smartphones have become cheaper.
The statistics,from Flurry Analytics, suggested 242 million apps were also downloaded on the same day.
The peak time for downloading new apps on Christmas Day was between 7pm and 10pm, the company said.
It gathered its data via its analytics tool which monitored downloads and usage of 140,000 apps in both Google's Android Market and Apple's App Store.
Flurry Analytics did not break down numbers for the individual operating systems.
It said the figures showed an increase in activations of 353% when compared to the daily average between 1 and 20 December. App downloads were up 125% over the same period.
More affordable
Meanwhile, figures from IBM Coremetrics suggested thatonline shopping on Christmas Day was up 16% on last year. It said traffic from mobile devices rose significantly with the iPad leading the way, accounting for 7% of all purchases.
James Atkinson, former editor of Mobile magazine, said the activation numbers were particularly impressive for Apple given that many had expected the iPhone 5 to launch ahead of the Christmas break,rather than the revamped iPhone 4S.
"It's always the busiest period, they would certainly have been hoping for a big pick-up," Mr Atkinson told the BBC.
"But given that there were plenty of Android phones, and the iPhone 4 was available last year, this is a surprisingly large amount."
Mr Atkinson believed much of the rise is due to smartphones becoming more affordable in the past 12 months.
"What you have, certainly with the Android, is that there's been a steady push for cheaper smartphones, which do just as much as the top end models."
Mr Rubinstweeted earlier in Decemberthat, on average, 700,000 Androids were being activated every day - up from 500,000 in June.
The Android operating system can be found on a wide range of models produced by many different manufacturers, whereas Apple's iOS is only found on iPhone, iPad and certain models of its iPod music player.
Demand for the iPhone has reached such a level that China-based manufacturer Foxconn is looking to double production to 400,000 units per day, China Daily reported.