Man sued for keeping company Twitter followers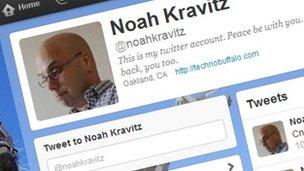 A man is being sued for keeping Twitter followers that he attracted while working for a US mobile news website.
Noah Kravitz tweeted forPhonedogas @Phonedog_Noah, but later changed his username when he left the company - taking 17,000 followers with him.
The company is now seeking damages of $2.50 (£1.60) per user, per month - a total of $370,000.
Mr Kravitz said his former employer had given him permission to continue using the account after he left.
Hetold the New York Timesthat Phonedog had allowed him to make the account personal as long as he agreed to "tweet on their behalf from time to time".
The 17,000 followers, which have since risen to 22,000, had been built up by Mr Kravitz during his four years at the company where he worked as a blogger.
However, eight months later the company filed a lawsuit claiming that the account's followers were a customer list, and that it had invested "substantial" resources into building it.
In a written statement, it said: "The costs and resources invested by Phonedog Media into growing its followers, fans and general brand awareness through social media are substantial and are considered property of Phonedog Media.
"We intend to aggressively protect our customer lists and confidential information, intellectual property, trademark and brands."
Corporate control of Twitter accounts has been a highly debated subject. Legal experts believe this latest case could set a precedent for future ownership tussles.
"Companies will now be developing careful ways of deciding if they want to tweet with a conjoined account," said Barbara Cookson, an intellectual property lawyer in the UK.
"For ordinary businesses it's quite difficult to gain a following without a strong personality. You have to have a very strong brand for it to work."
Ms Cookson argued it is hard to pinpoint a financial value to Twitter followers as it is unclear why they follow a particular account.
It's arguable as to whether a Twitter follower list is comparable to a mailing list.
"If Phonedog has been using it to run offers, it perhaps is a mailing list that has value."
However, intellectual property solicitor Leigh Ellis said Phonedog are likely to have a strong case as the original account featured the company's name.
"Let me put it this way, I'd prefer to be on Phonedog's side," he told the BBC.
"If you're a follower, who are you following? You might be following Noah, but it's PhonedogNoah. There's a very good argument that the reputation accrued is to the company, rather than the individual."
In a further statement issued on 28 December, Phonedog clarified that Mr Kravitz was tasked with creating the account in order to "promote Phonedog's published paid for content, giveaways, and live blogging events, and to provide the audience a way to follow Noah during his daily activities as a representative for the company".
It added: "Phonedog has always strived to provide a very personal user experience by frequently communicating with its audience, and all of our editors were and are encouraged to tweet personal aspects of their life to the account.
"Many of the statements made regarding the facts of the case are inaccurate. We intend to prove this in due process."
Related Internet Links
The BBC is not responsible for the content of external sites.