Child safety measures to protect against internet threats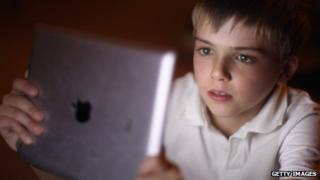 If you are reading this on Christmas Day, there is a good chance you are excitedly trying out a brand new computer, or maybe a fancy smartphone.
You will not be surprised to learn you are not alone - internet-enabled devices have been selling in their millions in the run up to Christmas. Many have been bought by parents eager to please their technology-hungry children.
For younger kids, today could be the first time they get their hands on their own computer or mobile.
It is a situation that can understandably leave parents feeling worried.
Negative experience
In apoll of over 19,000 parents and children conducted by security firm Norton, 7% of UK parents said they had absolutely no idea what their kids were up to on their computers and phones.
And when the same poll asked the children if their parents knew what was going on, 16% said no.
Fewer than half of the parents surveyed said they had put parental control measures in place on their family computer.
This can have direct consequences. According to Norton, 52% of the UK's children have experienced what they class as a "negative experience" online. Globally, this figure rises to 62%.
Even more worryingly, 30% (39% worldwide) said they had suffered a "serious" negative experience. This included, among other things, invitations to meet online "friends" in real life and exposure to indecent pictures of someone they did not know.
In the past, protecting children online was a relatively straightforward exercise: websites containing the words "hot babes" were unlikely to get through a parent-installed filter, whereas "help with homework" would be deemed safe.
Advice given by websites such as thegovernment-backed GetSafeOnline.orgsay these efforts should continue, with particular care being taken to ensure any pre-installed security software is kept up-to-date.
"Most people are securing their PCs," said GetSafeOnline.org's Tony Neate. "The big thing for me is, people must remember they need to refresh it when the subscription runs out in a few month's time."
Omnipresent protection
But as we approach 2012, the risks for children using the internet extend to problems far greater than seeking out - or accidentally discovering - pornography or other questionable content.
The ever-growing adoption of social networks, instant messages and mobile communication leaves the door open to more subtle attacks - both of a technological and psychological nature.
On top of this, what was once solid advice from previous years - such as keeping the family computer in an open part of the home - has been made largely redundant due to mobile technology putting fully-featured internet in children's pockets.
Fortunately for parents, available security solutions and advice have also moved on.
Security firm Zonealarm is one of several companies offering "omnipresent" packages to parents aimed at dealing with the complex threat of social networks.
Its Socialguard software can be paired with a child's Facebook account, monitoring activity on whatever platform the network is accessed - even if it is a friend's unprotected computer or phone.
"We analyse various aspects of the account every five minutes," explained Frank Bailinson, head of strategic products at Zonealarm.
"If we detect a problem then we alert the parents immediately. One thing we felt, as parents, is that if there's a problem that occurs you want to know immediately. Every second counts."
The software can be set to send an email, or a text message, to a parent as soon as a serious threat is detected.
Inappropriate activity
Crucially, Mr Bailinson said, Socialguard is not about spying on a child. Indeed, safety experts generally advise against logging in as their children, or even "friending" them as a means of keeping watch.
Aside from being ineffective - friends cannot read private messages - it encourages an erosion of trust and could lead children to be tempted into using a "secret" account, away from prying eyes.
Instead, software can scan the types of content coming in and out of a child's account, picking up keywords and phrases that may hint at inappropriate activity.
It also analyses the types of friends a child has, asking if they are same age and whether they share mutual friends with people the child knows.
"If they are loosely or unconnected to their group of friends, that's a 'red flag'," Mr Bailinson explained.
"Our detection is not 100% - so we are over-alert to make sure we catch everything."
These multiple algorithms present regular risk reports, suggesting areas where discussion between child and parent can take place.
Norton, which offers similar features with its own social media tracking software, believe this education aspect of online protection is key if parental measures are to be successfully implemented.
"Parents must realise that technology alone can't keep children safe online," Deborah Preston, the company's internet security advocate.
"To be truly safe it requires not only technology, but also a combination of open and ongoing dialogue and education between parents and children."
Their free package, Norton Online Family, is designed to help enforce pre-determined house rules - allowing controls over when internet access is permitted and for how long. These include restrictions over how much time is spent on instant messaging services.
GPS reports
But protecting a child is not just about blocking them from receiving inappropriate content - making sure they are not sending any of their own is just as important.
Internet security company Bullguard offers a package which allows parents to monitor the child's smartphone activity via a web-based system.
The interface includes details of text messages and photos - and also gives GPS reports on the child's location.
Once set up, the software can send text alerts to parents if certain words - decided by the adult - are contained in text or instant messages.
"It can check who's calling and when," explained Claus Villumsen, Bullguard's chief technology officer.
"If unknown numbers are calling you can block them. It means only people you know can call your kid."
Currently this software is only available on Android, Nokia and Windows phones.
Identity theft
On social networks, account hijacking - where a child's account is accessed for a practical joke or more sinister purposes - can cause considerable distress.
Zonealarm say they have created the first software that is able to detect whether this is taking place.
"Account hacking is often to kids by kids," said Bari Abdul, vice president and head of Zonealarm.
"Sometimes it's a reaction to bullying or something like that. Our product looks both at incoming and outgoing content.
"If something is going out of a child's account, it could be that the account has been hacked - or it could be that the child is doing something that the parent considers inappropriate."
Real world
A poll by Virgin Media suggests that 38% of parents whose children have suffered from cyberbullying feel unable to protect them due to a lack of knowledge and understanding of how the online world works.
This, Mr Abdul argued, could only be solved through greater education and a more honest understanding from parents about how real and damaging the effects of online bullying could be.
"The saddest part is that when bullying used to happen before, kids would feel threatened going to school - but at least when the came home they felt safe," he said.
"The sad thing about having a smartphone, and Facebook everywhere, is that those bad things follow you around wherever you are."
However, Mr Abdul added, the correct software, education and parental supervision means children can also be protected both at home and away.