ITC judge: Motorola Mobility infringed Microsoft patent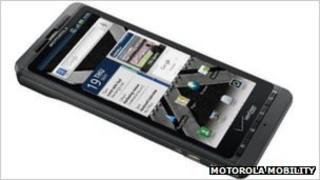 Motorola Mobility has been found to have infringed one of Microsoft's patents in a preliminary ruling by a US trade panel judge.
The technology covers techniques to schedule meetings and synchronise group calendars from a smartphone.
The International Trade Commission judge found there was no violation of six other disputed patents.
The ruling may aid Microsoft's efforts to chase licence fees from other Android-based handset makers.
Microsoft already charges HTC, Samsung and others royalties for technologies used in Google's operating system which it claims makes use of some of its innovations.
In October the Windows software-maker said it had struck licence deals with companies "accounting for more than half of all Android devices". Motorola Mobility was not among their number.
'One is enough'
Patent dispute experts said that other handset makers may now fall in line.
"If the initial finding is confirmed, then this will put Microsoft in strong position to stop other smartphone manufacturers who have not licensed this US patent from importing phones with an operating system, and not just Android, which includes a calendar and which lets you send meeting scheduling requests by email," said Andrew Alton, European patent attorney at Urquhart-Dykes & Lord who has previously carried out patent work for Apple.
"The fact that a number of Microsoft's other US patents were not found infringed is probably not so important as Microsoft only need this one patent to stop importation into the US."
Mr Alton noted that the European Patent Office had refused to allow the equivalent patent because "it was found to be obvious". Microsoft has appealed the decision.
Until now Microsoft has targeted its lawsuits against device manufacturers rather than Google itself.
However, that is set to change in 2012 when the search giant hopes to complete its takeover of Motorola Mobility.
Review
Microsoft's deputy general counsel, David Howard, said: "We are pleased with the ITC's initial determination finding Motorola violated four claims of Microsoft's patents."
Microsoft clarified that devices involved included the Motorola Droid 2, the Droid X, and the Backflip.
Motorola's general counsel, Scott Offer, said: "We are very pleased that the majority of the rulings were favourable to Motorola Mobility.
"The initial determination may provide clarity on the definition of the... Microsoft... patent for which a violation was found and will help us avoid infringement of this patent in the US market."
The initial ITC ruling will now go before the full commission for review. A final decision is expected in April 2012.
Sales ban
The panel will also consider Microsoft's request that infringing phones be barred from being sold in the US.
Legal experts said the dispute might cause Motorola Mobility problems, but it could yet find a way to avoid paying royalties.
"The US patent is very broad and it is not immediately apparent that Android would be able to retain the meeting scheduling features in their calendar application," said Mr Alton.
"Removing the ability to schedule meetings by email would probably get them round the US patent, but that is probably a feature most enterprise users would expect.
"If it turns out that Motorola has some US patents itself, particularly in the mobile phone space which it can successfully assert against Microsoft, then cross licensing might be expected."