Minecraft creator designs Minicraft 'sequel' in 48 hours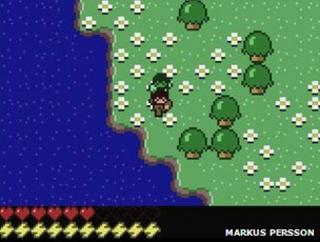 The creator of the hit video game Minecraft has worked against the clock to create a browser-based follow-up.
Markus "Notch" Persson coded Minicraft in 48 hours as part of a competition.
Entrants to theLudum Dare contestwere given two days to create a title from scratch based on the theme "Alone".
The video games industry has been closely watching Mr Persson for a hint of his next move after he announced he wasstepping down as Minecraft's lead developerearlier this month.
Mr Persson said at the time that he would still be involved in the game - but planned to devote most of his time to a "new project".
Minicraft is a top-down action titlein which the gamer roams a randomly-generated environment, building structures, exploring dungeons, harvesting materials and fighting enemies.
But while many of the elements may sound familiar to players of its predecessor, the Java-based game has much more basic graphics and controls.
The goal is more obvious too: "Kill the Air Wizard to win the game!" read the instructions.
"I feel sooo exhausted now," Mr Persson tweeted after completing his efforts.
He will find out in three weeks' time if he has beaten 890 other designers to the top prize.
Indie hit
Minicraft's forerunner Minecraft has been a hit with both gamers and the critics.
More than 4.3 million people have bought the block-building PC title which is sold exclusively at the website of its Swedish developer, Mojang. The firm recently launched mobile editions for Apple's iOS and Google's Android devices.
The game was voted "best independent game" at Spike's Video Game Awards in the US, and scooped the UK's inaugural GameCity arts prize in October.
Such success for a first title has created huge interest in Mr Persson and Mojang's next steps.
The firm has launched two titles in alpha-versions: Scrolls, a battlefield title involving magic spells, and Cobalt, a side-scrolling action adventure written by third-party developer Oxeye Game Studios.
The success of the independent studio has drawn the attention of role-playing game giant, Bethesda. The US developer sued Mojang over its use of the "Scrolls" name in September claiming it was too close to that of its "Elder Scrolls franchise".
Mr Persson tweeted in October that his studio had won an interim injunction and could continue using the name - at least for the time being. Analysts noted the David-versus-Goliath nature of the case.
"The opening up of the online distribution channel means small companies like Mojang can make a significant splash in the market, and in effect come out of nowhere and make an impression," said Screen Digest's senior video games analyst Piers Harding-Rolls.
"Mojang obviously has been highly profitable with Minecraft, so it could protect itself and from the company's point of view this was a relatively easy case to defend, although the final outcome is still to be determined."
Lego mining
While there may be future battles ahead, for now Mr Persson is taking time to admire his latest creation and enjoying a break.
"Markus is currently on vacation and will hopefully be back at the beginning of next year," Mojang's business developer Daniel Kaplan told the BBC.
"He'll probably start prototyping something new, [creating] concept developments and trying out new game ideas."
In the meantime his colleagues are working with Lego to create Minecraft editions of the Danish toy.
"We haven't planned exactly what this will be but it will involve real physical bricks. We are in talks with Lego right now," Mr Kaplan said.
"We're definitely surprised with all the positive reactions that we've had from the audience and gaming industry to Minecraft. We're very humbled by all the prizes and awards. It's a very cool spot to be in now."