Old republic Star Wars video game launches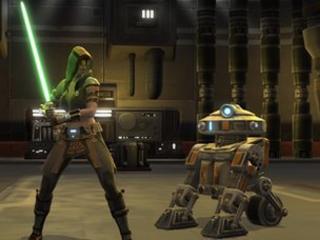 Budding Jedi masters and Sith lords now have somewhere else to hone their lightsaber skills.
Star Wars: The Old Republic launched on 20 December and lets gamers play as characters from the iconic SF series.
Reputed to have cost more than $130m (£87m) to develop, SWTOR is a bid to grab a chunk of the lucrative gaming market for publisher EA.
It faces stiff competition from established titles, such as World of Warcraft, and many free-to-play games.
The Old Republic is set 3,500 years before the events depicted in the Star Wars films but uses many familiar elements from the movies.
Many aspects of the game involve moral choices that push players towards the light and the dark sides of the force.
The Old Republic (SWTOR) is a massively multi-player online (MMO) game and resembles World of Warcraft (WoW) and many others in that it asks players to go adventuring to turn their relatively weak starting character into a powerful hero.
Players can choose to play as many different races including human, Sith pureblood, Twi'lek and cyborg. At the start of the game players must choose whether to be part of the Galactic Republic or Sith Empire.
Different species adventure as one of several different classes including Jedi knights, smugglers, troopers and bounty hunters. Players also get a starship to explore the many different planets making up the SWTOR galaxy.
The game went on sale on 20 December in the US and Europe but people who pre-ordered the game got access from as early as 13 December.
In the UK, the basic edition costs £45 and this includes the first month of online play. Continuing to play requires payment of an £8.99 monthly fee.
Other editions, deluxe and collectors, are available and include items for use in the game as well as a security module to help prevent an account from being stolen.
John Walker, a journalist at PC games news site Rock Paper Shotgun, gave a cautious welcome to the game. He said it was an "interesting confusion" of WoW and classic PC game Knights of the Old Republic.
Mr Walker said visually the game resembled a smartened up WoW and borrowed many of the well-known mechanics from that and other online role-playing games.
"However, and crucially, there is this huge amount of story in there, with every line of dialogue recorded, and genuine moral choices to be made, with long-reaching consequences on how you experience the world," he told the BBC.
'Distinctive and alternative'
"WoW has never offered anything close to that," he said. "And playing dark side, you can do somehorriblethings, which is fantastic."
He said there was an obvious tension in the game between the involving, story-driven solo titles that its creator Bioware is best known for and the populist multi-player experience required to attract subscribers and recoup development costs.
"I think there is a great deal that makes SWTOR distinctive and alternative enough to be interesting," he said, though he added that it was too early to say whether the game would be a hit.
"I'm hedging my bets at this point, as anyone should in the early days of a new massively multi-player game," he said.
Joe Martin, games editor at Custom PC, was less impressed with his time testing the game.
Mr Martin said "glaring technical inconsistencies", such as the fact that lightsabers do not cut through anything, robbed the game of the attraction of its setting.
"Jedi are supposed to be rare, but a massively multi-player game is naturally going to be full of them, which robs them of their rarity and potence," he said.
While playing, Mr Martin was struck by the divide between the complex single-player content and what he dubbed the "MMO-style filler".
"All the talk about this being the first MMO to put storyline into an MMO conveniently skips the reason why single player and multi-player games operate as discrete entities," he said.
With SWTOR, publisher EA is hoping to tempt players away from well-known titles, such as WoW, which also charge a monthly fee.
But it will also have to outdo the many free-to-play online games titles that started out with monthly charges but have been forced to drop fees to survive.
The launch of SWTOR comes barely a week after the closure of the Star Wars: Galaxies - one of the pioneering online role-playing games.