Secrets of pop success revealed, scientists claim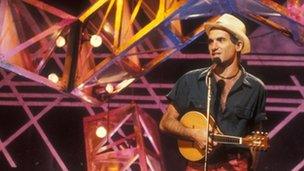 Budding pop stars may fare better if they swap a piano keyboard for a PC, according to university researchers.
University of Bristol scientists claim to have developed software that can spot whether a song has hit potential.
The program looks at 23 separate characteristics including loudness, danceability and harmonic simplicity.
Trained using hit songs from the Top 40 over the last 50 years, the software can predict chart positions with about 60% accuracy, the scientists say.
"The goal was to find out if we could come up with an equation that distinguishes between a hit and something that dangles at the bottom of the charts," said Dr Tijl De Bie, a senior lecturer in artificial intelligence at Bristol, who heads the research team.
Dr Bie said the equation was developed using the publicly available data about songs in the UK top 40 since 1961. For each week in that long history, the equation was tested with new releases to see if it could predict where that song would get in the chart.
"At every moment in time the equation can be different because we only took into account past data," Dr De Bie told the BBC.
Machine learning techniques were used to help the equation learn about the relative importance of all the elements that make up a pop song. The result, he said, was an equation that is right more often than it is wrong.
"We can expect to get it right in about 60% of cases," said Dr De Bie. "It's not perfect."
What regularly tripped up the equation were the unexpected hits that became popular for reasons that often had nothing to do with their musical qualities, he said.
In 2010, Surfin' Bird by The Trashmen reached number three in the UK charts, thanks to a web campaign persuading people to buy it to prevent X Factor winner Matt Cardle being the Christmas number one.
In a similar way, said Dr De Bie, the equation could not determine to what extent marketing determined whether a song was a hit.
And, he added, predicting that something would be a hit was no guide to whether a song was worth listening to.
"It's not a value judgement," he said, adding that it was really a social barometer that measured what people were more likely to buy.
Despite this, said Dr De Bie, neither he nor his colleagues were planning to gamble any money on which song would be the 2011 Christmas number one.
What the work has also revealed is the steady change in musical tastes that have been reflected in chart music over the past half century.
Analysis showed that music had become easier to dance to and louder over the years, said Dr De Bie.
Related Internet Links
The BBC is not responsible for the content of external sites.