Net access: EU survey shows geographic divisions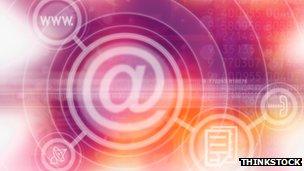 Almost a quarter of the European Union's citizens have never used the internet, according to official research.
It said that was an improvement on the 42% figure reported in 2006.
Romania topped the list, with 54% of its inhabitants classed as net-holdouts. At the other end of the scale, Sweden's proportion was 5%.
The UK ranked sixth out of 27 states with an 11% figure.
The data suggests an internet gulf is growing between the web-friendly north and the poorer south and east.
The survey covered 214,580 people living in 149,331 households.
It suggests that more than half of EU citizens use the internet every day or almost every day, while just over two-thirds use it at least once a week.
Men were slightly more likely to use the internet regularly - 75% versus 65% logging on once every seven days.
The survey also studied the number of households with internet access.
The Netherlands came out on top with 94% of its homes connected, followed by Sweden and Luxembourg (91%), and Denmark (90%).
By contrast, only 45% of Bulgarian households were linked to the internet, while the figure was 47% in Romania.
Eighty-five per cent of the UK's homes have access, putting it ahead of Germany, Ireland, France and Spain.
The statisticians also noted a shift towards broadband use. Sixty-eight per cent of households across the EU used fast-speed connections rather than slower dial-up access. That was more than double 2006's 30% figure.
The UK led the way in e-commerce. Eighty-two per cent of its internet users had ordered goods or services over the net for private purposes over the past 12 months. That compared with an EU-wide average of 58%.
Across the bloc as a whole, the data also suggested 56% of internet users read news online, 54% looked for health related information, 53% participated in social networks and 10% had voted online or taken part in online consultations.
Related Internet Links
The BBC is not responsible for the content of external sites.