Digital music: Can Rara go far?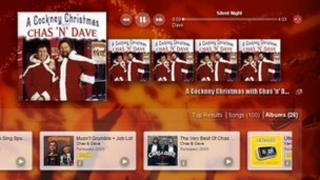 Sick of Spotify, weary of We7, feeling negative about Napster? Well, today there is yet another new digital music service to choose from.
From a base in the UK, Rara is launching in 23 countries and claiming that it will introduce a new audience to digital music. It looks impressive but there are two big questions. Do millions more consumers really want to pay for digital music and will the terms on which the music labels have signed up to Rara allow it to survive?
The service is born of a business called Omnifone, which has provided music streaming for firms like Sony, Vodafone and RIM, mainly for use on mobiles. As far as I can see, none of those firms has really managed to get a whole lot of phone users interested in the music service.
But Rara says its research shows a huge untapped demand. "80% of consumers have never done anything digital with music," says director Tim Hadley, "from using iTunes to ripping a CD."
He quoted research showing around 6 million people would be paying for a music service by the end of this year, with Spotify dominating the market, but that 161 million would be subscribing by the end of 2016.
Digital virgins
But why would these millions of digital music virgins choose Rara rather than Spotify or Deezer or any of the other existing offerings? Mr Hadley says all of them are far too complex - "they're like navigating an Excel spreadsheet" - and that the answer is a much simpler service, more readily understood. So, unlike Spotify, which obliges users to download an app, Rara will be accessed direct from its website.
Now I remember hearing the same "simplicity" message from web-based services like We7 - but it turned out that more people were happy to go down the app route with Spotify. And haven't apps proved a rather successful way of getting people to pay for services they used to get free?
The business model is different - there's no free ad-supported service. You have to pay to join at 99p a month for the first three months, then £4.99 or £9.99 if you also want Rara on a mobile.
From a quick glance, the service does seem both simple and well pitched for a casual music consumer. You are immediately offered some playlists to suit your mood - from "chilling out" to "Sunday morning". There is a Radio 2 feel to the site - and that is a big audience.
Two hurdles
But there are two hurdles to clear. First you need to persuade people who have been sceptical about digital music to register and pay their 99p. However small the amount, that's a challenge. Then you have to make sure they stay when the price goes up after three months.
Spotify lured an audience with a free service, which at first had very few adverts, and it took three years for it to turn the early freeloaders into 2.5 million paying customers.
Then there is the question of what terms the big four labels have exacted from Rara in the 18 months it has taken to agree a licensing deal. A few days ago, in a fascinating post headlined "Why Spotify can never be profitable", digital music entrepreneur Michael Robertson spilled some of the secrets about the hardball game played by the labels.
A contact at Spotify told me the piece took an exaggerated view, reflecting the author's own difficulties in getting a profitable music business off the ground. But he went on to say that the music industry would certainly demand a very high up-front price from any new service - and not worry too much if it went to the wall after a few months.
Rara is confident that by targeting what Tim Hadley calls "a completely different audience with a completely different business model", it can rapidly build a major digital music enterprise. But if it's to achieve that, it will have to battle the apathy of the casual music lover and the apparent short-termism of the big labels.