Music service Rara.com aims for digital non-adopters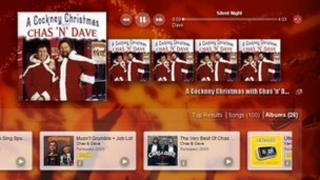 A new song-streaming service is targeting music lovers who do not currently pay for digital tracks.
Rara.com, which has launched in 16 countries, said its research suggested that 60% of consumers had never used a digital music service.
The organisation aims to simplify the process. For a monthly subscription, users can select and listen to tracks via their standard web browser.
Its main competitor is Spotify, which has more than two million paying users.
In addition to the UK, Rara.com is available across much of Europe and the US. It will expand to seven further countries, including Canada and Mexico, by the end of the week.
After an initial trial price of 99p a month for the first three months, users can pay for either a £4.99 subscription allowing web-only listening, or £9.99 to enable mobile listening on a smart phone.
However, unlike some of its rivals, Rara.com will not offer a free advertising-supported option.
'Simple goal'
The site's chairman, Rob Lewis, said his service was not looking to challenge already popular services like Spotify and iTunes but was instead aiming for a relatively untapped market of non-digitally savvy music fans.
A survey of 1,000 adults carried out for the organisation found that 70% of respondents had not bought a digital music track over the previous six months.
"Unlike the CD, seven years after the formation of iTunes the vast majority of consumers are not adopting digital," Mr Lewis told the BBC.
"The simple goal behind this service is not to compete with all the existing digital players, but to roll out to all the major territories in the world a digital music service that's designed for the mass market of people who are either not technically literate, or like music but don't know a huge amount about it."
Mr Lewis said Rara.com's interface was designed not to feel like "a spreadsheet". Playlists will be highly curated by guest editors on the site, the first of which will be Grammy award-winning Imogen Heap.
The mobile application, offered on both Android and iPhone, runs using "networked aware mobile streaming" - a process which means any played track is automatically stored on the device to allow offline listening.
Mr Lewis said due to the service not having a free option, artists should receive more money per play than on other rival offerings.
Crowded house
The streaming music market is becoming increasingly crowded with services such as Grooveshark, Rhapsody and Rdio all offering similar products.
Earlier this month,Spotify announced it is opening up its service to third-party developerswho have been invited to build applications utilising the music library.
Will Findlater, editor of Stuff Magazine, believes it will be hard to topple Spotify from its position of market leader, but there is a potentially huge user base waiting to be tapped.
"Although the likes of Spotify allow you to choose to cache music on your computer - Rara is for people who don't know what caching means. I'm not sure if that in itself is enough of a good sell - but the trial price is pittance.
"Other companies will benefit from the fact Spotify has already shown what this kind of service can do. People are telling other people how brilliant music streaming services are."