Russian Twitter political protests 'swamped by spam'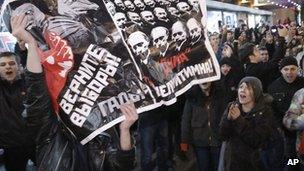 Hijacked PCs may have helped drown out online chat about Russian election protests, say security experts.
The computers were used to disrupt Twitter as Russians chatted about ongoing protests in Moscow's Triumphal Square, said security firm Trend Micro.
Analysis of the many pro-Kremlin messages posted to some discussions suggested they were sent by machines.
Russian activists said thousands of Twitter accounts were being used to drown out genuine dissent.
This is a network of PCs, usually running Windows, that have been infected by a virus putting them under the control of a cyber criminal.
Mr Goncharov said the machines, or bots, in this network had targeted chatter about the protests in Moscow's Triumphal Square.
The protests followed accusations about irregularities during Russia's recent parliamentary elections. Results showed a significant dip in support for Vladimir Putin's United Russia party.
Some of the chatter on Twitter was organised around the topic name, or hashtag, of #triumphalnaya.
"These bots succeeded in blocking the actual message feed with that hashtag," he wrote.
The rate at which pro-government messages were posted, about 10 per second, suggests they were being done automatically rather than by individuals, said Mr Goncharov.
He posted a list of accounts being used to send the messages and suggested many could be compromised accounts.
"Whether the attack was supported officially or not is not relevant," he wrote, "but we can now see how social media has become the battlefield of a new war for freedom of speech."
Security researcher Brian Krebs said activists inside Russia followed Mr Goncharov's work with analysis of their own.
The pattern of activity in these accounts and the users they followed suggested many were created to "pollute the news stream for the protester hashtags", said Mr Krebs.
The Russian government has also taken steps to tackle the protests by asking the VKontakte social network to block chatter among activists.
VKontakte was contacted by Russia's Federal Security Service and was asked to shut down groups in which some wanted to turn the protests violent.
The site said it would be unfair to block entire groups but said it would cut off individual members who incited violence.
Pavel Durov, founder of VKontakte, said the site was "100% apolitical" and did not support those in power or the opposition.
Related Internet Links
The BBC is not responsible for the content of external sites.