Alec Baldwin leaves Twitter after American Airlines row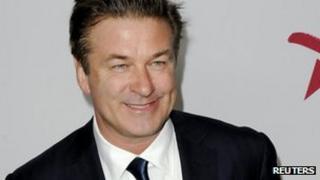 The Twitter account of the Hollywood and TV actor, Alec Baldwin, has been deactivated.
Mr Baldwin had been a prolific tweeter and made headlines this week after writing that he had been kicked off an American Airlines plane for playing a game on his mobile phone.
The airlineresponded on Facebookthat a passenger had been removed after declining "to turn off his cell phone".
Mr Baldwin later posted an apology to passengers onthe Huffington Post.
"It was never my intention to inconvenience anyone with my 'issue' with a certain flight attendant," Mr Baldwin wrote.
Lessons
However, his apology did not extend to the airline itself.
Mr Baldwin claimed he had been "singled out" by an airline employee for using his phone to complete messages after the late-running plane had closed its doors but was still waiting for take-off.
"The lesson I've learned is to keep my phone off when the 1950's gym teacher is on duty," he added.
American Airlines' statement said that an unnamed passenger had taken his mobile phone to the lavatory and had slammed the door when asked to turn it off.
It said the man had been "extremely rude to the crew, calling them inappropriate names and using offensive language".
#massunfollow
The 30 Rock star later tweeted: "Let's play a game called Mass Unfollowing. I want to crash this acct and start again. But, tonight at 10 PM, NY time, unfollow me."
Later that evening he tweeted: "I leave you with this.... The great Bernard Haitnk and the Concertgebouw, performing the Mahler 9th, fourth movement."
Mr Baldwin then linked to a YouTube video of the concert, and appears to have closed his account.
The tweets can still be seen in aGoogle cache, however visitors to his account are now simply told that it has been "deactivated".
Members of the social network have given a mixed reaction to the news.
Some members described him as a "bully" and commented "good riddance". However, others wrote "Alec Baldwin is my hero!" and "I thought he was good value".
Marketing experts say the saga highlights the growing importance of social media.
"What's interesting about this is not that he was forced to leave a flight - he's not the first celebrity that's happened to," said Simon Myers, from the Figtree consultancy.
"But his withdrawal from Twitter is the bigger story. I think that shows just how important Twitter has become in the whole celebrity ecosystem."