Viewpoint: Samsung risks following Sony and IBM's slide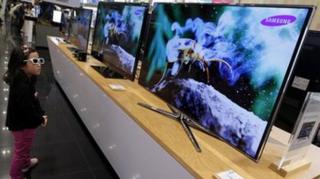 Samsung Electronics is a leading global firm today - but I fear it is at its apex.
The South Korean firm could soon enter a sunset scenario that would see it follow other downturns.
Just as the Roman and British empires rose and fell, technology companies too face inevitable phases of evolution and devolution.
The rule applies to the likes of Sony, IBM and yes, even Samsung.
Sony's Sudden Sunset
Sony, much like Samsung, initially entered the US market with relatively low-priced products such as its TR-72 transistor radio in the 1960s.
The Japanese firm followed up its success with a series of blockbuster game-changing products: the Sony Walkman in 1979; the CD music format in 1982, in conjunction with Philips; and the DVD in 1995, to name just a few.
Like Samsung televisions today, Sony TVs and electronics in the 1980s were heralded as the industry's best and most cutting edge.
And like IBM, Sony's peak period was soon followed by a rapid sunset that began the following decade.
Sony's decline in the 1990s was, in part, due to competition from South Korea, with the emergence of Samsung Electronics.
Even now it continues to struggle.
Despite the popularity of products such as its PlayStation console the firm has warned it is set to post its fourth consecutive annual loss. Things would be even worse for the tech firm if it did not have the profits of its life insurance and banking wings to fall back on.
IBM: From sunrise to sunset
In its apex period, IBM's products were unparalleled, such as its Selectric series typewriters and Thinkpad PCs in the 1990s.
Founded in 1911, IBM was an electronics leader for most of the 20th century, famous for its hardware and software.
Some of its major early products successes included its tabulation devices, punch cards, and corporate computers.
But it also manufactured a host of other somewhat less related products, from meat and cheese slicers to commercial scales.
IBM's early days draw strong parallels with Samsung today - including a strict and formal corporate culture befitting of the "company man" persona of the 1950s in the US.
This included conservative dress - dark blue suits and ties - hence the name "Big Blue".
IBM also demanded strict company loyalty and a group think mentality, which often blurred the lines between professional and personal lives.
Often the two often became one - corporate outings with family members, corporate sports teams, new employee training centres, and even a company band were created to foster a loyalty to the corporation environment.
But IBM's peak lasted a relatively short time. By the time it sold its PC line to a Chinese firm it was clearly in a sunset scenario - at least in terms of being a manufacturer.
Samsung state
Enter into Samsung headquarters in southern Seoul today, and a similar environment to that of IBM's past is omnipresent.
The 1950s-type company man persona permeates, with row upon row of conservatively dressed workers who, in effect, offer complete and unobstructed loyalty to the "Republic of Samsung".
And naturally Samsung has a series of corporate sports teams, including the Samsung Lions baseball team.
In fact, the company is almost a country within a country.
A high-flying Samsung flag can be seen prominently perched just next to the South Korean flag at the firm's Korean headquarters, almost as if it was signalling that the two are near equals.
Or at the very least, that the two are highly interdependent, which is in fact the economic truth.
The firm accounts for 13% of South Korea's total exports, where exports make up a full 48% of the country's total GDP.
Diversification
IBM managed to reinvent itself as an IT services company, proving that decline is not irreversible.
Samsung knows it is at a crossroads, which is why it is desperately trying to reinvent itself.
This was made clear from chairman Kun-hee Lee's strategy to create five new business areas by 2020, including medical devices and green technology.
This is not a completely novel idea, so the key to Samsung's success will lie in its ability to execute its strategy quickly and seamlessly.
Arguably this is one of Samsung's strengths, as it already heavily invests in research and development in related areas.
But the challenge lies in the greater environment facing Samsung.
The Next South Korea
South Korea has profited from enormous growth over most of the last 50 years.
But today the country, where Samsung is headquartered, is facing the problem of a rapidly shrinking population and the growing threat of an increasingly economically assertive China.
What should worry Samsung, and thus South Korea, is that China is well on its way to becoming the next South Korea - only larger in terms of both scale and scope.
In fact, China may already have its own rival to Samsung in the form of Lenovo - the firm that bought IBM's PC unit in 2005.
The Chinese firm is certainly "global". It has factories and research centres in Mexico, India, Japan and the USA as well as its bases in China.
Just over half of its sales were outside its home market in the past financial year.
It is also "globalised" both in terms of its software and its senior management team - a mix of Asians, North Americans and Europeans.
In contrast, Samsung is arguably "global" but not "globalised".
The firm's board of directors and senior management are almost entirely Korean with decisions driven primarily from Seoul.
And while China enjoys relatively abundant cheap labour, South Korea's workforce population is shrinking.
There is also reason to believe they are not efficient.
South Korean workers work the longest hours per year among the OECD nations. The average amount is more than 2,200 hours a year. The figure for the US is closer to 1,800 hours per year.
Yet South Korea's workers have one of the lowest productivity rate per worker among OECD states.
Add that to South Korea - and Samsung's - dependence on exports and there is a problem at a time when the global economy is unstable.
With these challenges, and given the sunrise to sunset outcomes of past tech titans, the future of the Samsung empire risks being a sunset scenario - the very same scenario that faced Sony and IBM before it.
Jasper Kim is professor at the school of international studies at Ewha Womans University in Seoul, South Korea.
He is currently a visiting scholar at Harvard University's Korea Institute in Cambridge, Massachusetts, where he will be based until February 2012.