UK faces connected-home challenge to overcome confusion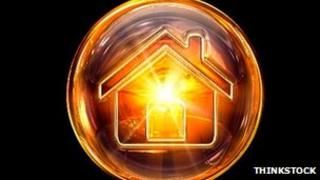 The UK is at risk of missing out on a "connected-homes" economic boost, according to a report.
Thestudy refers tonew internet services including media, smarter energy meters, and access to education and health advice.
The British tech trade association Intellect claims the market could be worth £3bn a year within five years.
However, it says a range of problems must be addressed first, including a "bewildering" range of technologies.
The report says customers are confused by different types of cabling and multiple standards.
As an example it notes that the existing Digital Living Network Alliance, which aims to ensure devices can communicate with each other, has several sub-categories under the same logo.
It says that as a result consumers can buy two pieces of DNLA certified equipment which "don't interoperate".
It also notes that there is no single place for consumers to go to receive unbiased and accurate advice on all the services on offer.
Security
The report highlights specific concerns about some of the services being rolled out.
It says that smart energy and water meters, which communicate with utility companies, will help the firms save money and should eliminate disputes over readings.
However, it adds that "smart meters are designed to be tamperproof, but all the environments they push data to may not be safe from identity theft and failure".
Intellect notes that internet healthcare services could save money by reducing the number of surgery walk-ins and home visits as well as helping to detect problems at an earlier stage.
But it says the NHS lacks a "national unifying set of standards" and as a result companies, such as Bosch, are selling closed loop solutions that only communicate data to the firm's own devices.
Revolution
To help tackle these and other problems Intellect has proposed a set of recommendations.
These include:
The creation of a forum including representatives from the tech, healthcare, education, construction, energy and media industries to discuss how to develop a single market
The establishment of an industry home networking standard to address consumers' confusion
New incentives to encourage the public to sign up to services, such as including the cost of setting up a home network in mortgage and remortgage packages
"The connected home has been talked about for some time but it is now potentially the next big technology revolution," said Intellect's digital media convergence manager Colin Batten.
"The challenge is to ensure people can get the most out of [the devices and services] by providing a joined-up, robust network and not a piecemeal service."
'Speculative'
Other industry watchers have supported the findings.
"If you leave it to market forces eventually the market will shake out the weak links and a dominant standard emerges," said Chris Green, principal technology analyst at the Davies Murphy Group.
"But they are probably right that we need a top-down approach. We have already waited for 10 years for a home networking standard. Without intervention it could be more than another 20 years before one emerges."
However, other experts cast doubt on Intellect's predictions saying these kind of growth forecasts are always highly speculative.
"All of the devices that would need to talk to each other - such as fridges and washing machines - are replaced once every decade or two decades so it may take a long time, anyway, for the fully connected home to emerge," said Benedict Evans from Enders Analysis.
"Eventually most of our devices will probably have communication chips, but it is going to be a while before that happens."