GCHQ challenges codebreakers via social networks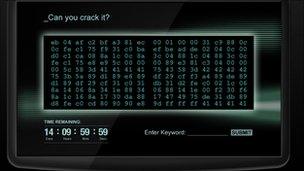 UK intelligence agency GCHQ has launched a code-cracking competition to help attract new talent.
The challenge has also been "seeded" to social media sites, blogs and forums.
A spokesman said the campaign aimed to raise the profile of GCHQ to an audience that would otherwise be difficult to reach.
"The target audience for this particular campaign is one that may not typically be attracted to traditional advertising methods and may be unaware that GCHQ is recruiting for these kinds of roles," the spokesman said.
"Their skills may be ideally suited to our work and yet they may not understand how they could apply them to a working environment, particularly one where they have the opportunity to contribute so much."
The competition began in secret on 3 November and will continue until 12 December.
GCHQ said that once the code was cracked individuals would be presented with a keyword to enter into a form field. They would then be redirected to the agency's recruitment website.
The organisation said it was not worried that the problem's answer might be spread around the internet.
It said it would still benefit because the resulting discussion would "generate future recruitment enquiries".
However, it added that anyone who had previously hacked illegally would be ineligible. The agency's website also states that applicants must be British citizens.
The move was hinted at two months ago when Prime Minister David Cameron presented his government's response to the Intelligence and Security Committee's annual report.
The document noted the committee had concerns about GCHQ's "inability to retain a suitable cadre of internet specialists" to respond to cyber threats.
It said that the Cabinet Office supported "initiatives such as the Cyber Security Challenge, which promotes careers in cyber security via annual competitions and events".
Following this the government announced last week that it would set up a specialist department within GCHQ.
The Joint Cyber Unit will concentrate on tackling the growing threat of cyber attacks from organised criminals, terrorists, hostile states and hacktivists.
GCHQ claimed that this was the first time this sort of challenge had ever been conducted by an organisation to target these sorts of skills.
However, the agency has used unusual recruitment methods in the past.
In 2009, it placed video content, themes and downloadable pictures on the Xbox Live network which appeared during Call of Duty, Assassin's Creed and other video games.
Two years earlier, it targeted gamers by placing digital posters in online titles including Tom Clancy's Rainbow Six: Vegas and Splinter Cell Double Agent.
Related Internet Links
The BBC is not responsible for the content of external sites.