Ian Livingstone: 'Seismic shift' in computer education
By Ian Livingstone
Life president, Eidos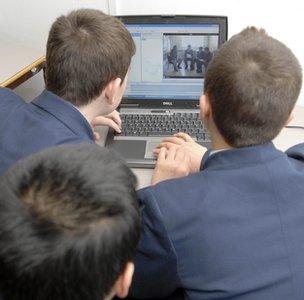 In July 2010, Ed Vaizey, the Minister for Culture, Communications & the Creative Industries asked Alex Hope and me to undertake a review of the skills needs of the UK's video games and visual effects industries.
Our industries are big business. With global software revenues exceeding $50bn (£32bn) per annum, the video games industry is the largest entertainment industry in the world.
Visual effects is the fastest growing component of the UK's film industry.
High-tech, high-growth, and knowledge-based, these industries have all the characteristics the UK needs to succeed in the future.
But all is not well, and in a growing market, the UK is slipping down the global games development league table and the UK's visual effects industry is turning down millions of pounds in business each year.
A very big part of the problem, common to both industries, lies in their skills gaps and shortages.
We simply cannot hire enough computer scientists and this seems madness at a time of such high youth unemployment.
Working with the National Endowment for Science, Technology and the Arts (Nesta), Alex Hope and I published Next Gen in February this year, a review which detailed a set of 20 recommendations for government, educators and industry.
Next Gen highlights the poor quality of computer teaching in schools as one of our biggest obstacles to growth.
This frustration is common to other sectors not usually associated with computing, from financial services to designing a jet propulsion engine.
Companies like Rolls-Royce and GlaxoSmithKline depend on great programmers as much as games developers and visual effects companies do.
Computing is no longer a marginal skill for experts and geeks - it is essential knowledge for competitive, innovative high-tech businesses.
If our days as a leading nation of manufacturing physical goods are over, we have to equip the workforce of today with the skills to build digital content for the UK's digital economy.
The UK has gone backwards at a time when the requirement for computer science as a core skill is more essential than ever before.
Sir Clive Sinclair launched the ZX Spectrum in 1982, putting affordable computers in the homes of a creative nation.
At the same time, the BBC Micro was adopted as the computer platform of choice for most schools and became the cornerstone of computing in British education in the 1980s.
There was a thirst for creative computing both in the home and in schools creating a further demand at universities for courses in computer science.
This certainly contributed to the rapid growth of the UK computer games industry.
But instead of building on the BBC's Computer Literacy Project in the 1980s, schools turned away from programming in favour of information and communications technology (ICT).
Whilst a useful vocational skill, ICT fails to inspire children to study computer programming.
Computer science is to ICT what writing is to reading.
It is the difference between making an application and using one.
It is the combination of computer programming skills and creativity by which world-changing companies such as Google, Facebook, Twitter and Zynga are built.
Indeed, in a world where computers define so much of how society works, from how we do business to how we enjoy ourselves, I would argue that computer science is "essential knowledge" for the 21st century.
The children of today are born digital natives and should not be taught to be simply slaves to a user interface, bored out of their minds.
They need to be given digital building blocks to inspire them to build digital content.
It was Meccano in my day. Today's children need digital Meccano.
We cannot build a digital economy with a nation of digital illiterates.
Hence our first recommendation: to bring computer science into the National Curriculum as an essential discipline.
Eric Schmidt, Chairman of Google, said in his recent MacTaggart lecture in Edinburgh that the UK was "throwing away your great computer heritage" by failing to teach programming in schools.
"I was flabbergasted to learn that today computer science isn't even taught as standard in UK schools," he said.
"Your IT curriculum focuses on teaching how to use software, but gives no insight into how it's made."
On art and science he said, "Over the past century, the UK has stopped nurturing its polymaths. You need to bring art and science back together".
The Prime Minister David Cameron was obviously listening.
Talking on the subject of computer science education this month at Tech City, Mr Cameron said, "I think Eric Schmidt is right... we're not doing enough to teach the next generation of programmers."
Whilst it falls short of saying that computer science will form part of the National Curriculum, the door has been left open to explore the option.
Clearly it cannot happen overnight; the curriculum has to be written, the examining boards need to build exams around it, the teachers have to be trained and implementation will always take longer than expected.
But there is a willingness to explore the option which is much more than we could have hoped for before Eric Schmidt's famous speech.
The response today shows that the Department for Education appears to be listening at last.
I was particularly encouraged by paragraph 14 which states: "As part of that process the review will consider the teaching of computer science within ICT."
"The Government recognises that, in the event of ICT not remaining part of the National Curriculum, attention would still need to be given to ensure children could acquire computer science skills. The Government would work with the sector to find the best way to achieve this."
This is quite a seismic shift in thinking and is to be welcomed.
It is a statement which might now to lead to curriculum reform.
If it finally is accepted that ICT as currently taught has little value for a career in the high-tech and digital industries and becomes a non-essential subject, it is very possible that computer science could step in to become an optional STEM subject, and count as essential knowledge for the 21st century.
And for Universities there is also hope for industry-accredited courses to be considered for additional funding from the Higher Education Funding Council for England which would benefit both students and industry.
Computing is the lingua franca of the creative and digital industries. Computer science is the new Latin.
Britain's schoolchildren deserve to be given the chance to learn the language of code to succeed in the digital world in which they live.
Ian Livingstone is Life President of Eidos
He is the co-author of the review "Next Gen - Transforming the UK into the world's leading talent hub for the video games and visual effects industries" published earlier this year
Related Internet Links
The BBC is not responsible for the content of external sites.