Call of Duty enjoys record sales despite retail woes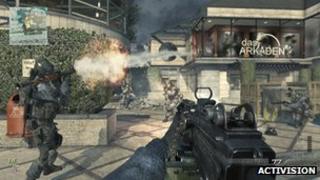 Activision says Call of Duty: Modern Warfare 3 has broken the global sales record for a videogame, grossing $775m (£490m) in its first five days on sale.
The Elder Scrolls V: Skyrim, released soon after, was close behind. Its publisher said it shipped seven million launch units, worth $450m (£320m).
The strong demand offers some respite to retailers in the gaming sector.
Earlier this week, the UK's Game Group cuts its revenue forecast and said sales were down 8.6% on 2010.
Modern Warfare 3 beat last year's release COD: Black Ops, which grossed $650m (£412m) worldwide over its first five days. Modern Warfare 2 earned $550m (£350m) over a similar period the previous year.
Economy
Modern Warfare 3 is the first title in two years to be developed by Infinity Ward, the creator of the Call of Duty series.
It follows on from events in Modern Warfare 2. Players take on the role of special forces resisting a Russian invasion of the United States and Europe.
However, while revenues were up on last year, the number of copies sold has remained static.
John Pinder, managing director of market analysis firm Gfk Chart-Track, said a lack of discounting this year had boosted gross takings.
"In terms of the number of units sold, it's pretty much the same as last year's version," he said.
"Given the fact that people have less money in their pockets and are spending less due, in part, to fears about the economy, to achieve the same numbers of copies sold is quite a feat," he added.
Patrick Garratt, editor of gaming website VG24/7, said that the sales figures were expected but wondered if they would continue.
"There was a lot of discussion before it shipped about whether it would break the record and, surprise surprise, it did," he said. "However, it remains to be seen how long the phenomenon can last."
Glitches
There was some good news for Bethesda, whose massive role-playing game The Elder Scrolls V: Skyrim - sold more than seven million copies since it launched on 11 November.
The open world game - with an estimated 300 hours of gameplay - allows players to explore a vast mythical landscape, battling creatures, solving quests and turning a weak character into a powerful hero.
However, problems within the code surfaced after a few days and users report the game slows down with prolonged play.
Pete Hines, vice-president of marketing at Bethesda, updated disgruntled players via Twitter, and stressed that the firm was working on a fix.
"We're working on all the issues we can. Updates coming as soon as we can," he wrote.
Mr Garratt said the problems would not hurt the title's prospects.
"Bethesda has a history of launching games with bugs. I don't think it will have any effect on the fan base at all, people just love it."
There has also been strong demand for other new titles including Batman: Arkham City and Battlefield 3.
However, shares in the retailer, Game, tumbled earlier this week after it said revenues across software, hardware and accessories were all down on the year.
Analysts say High Street videogame retailers are struggling because of competition from stores on the internet and a lack of new hardware releases.