Retail gimmicks or the future of shopping?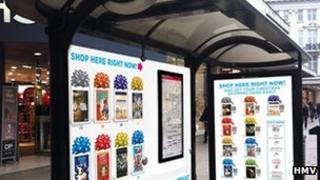 Retailers are struggling to get shoppers to spend right now - and they are hoping that new technology might be the answer.
News of two hi-tech initiatives that try to marry the real and virtual worlds has arrived in my inbox this week.
But both technologies - augmented reality and QR codes - still have to convince consumers they are more than just gimmicks.
Tesco is hoping that augmented reality will give shoppers a better feel for products, either in store or online. The technology may be familiar to mobile phone users through various apps that use the phone's camera to overlay information or images on the real world.
Tesco has installed AR screens - in effect giant webcams - in four stores as it pilots the technology. Shoppers can then pick up various entertainment products - DVDs, books - show the pack to the screen and see a trailer or get more information.
Rob Salter, head of entertainment products at Tesco, says the idea is to bring the products to life: "Some of these products - like a movie - don't mean much until you actually use them. If you haven't actually seen them, you are less likely to buy, so I'm keen on anything that brings them to life."
The other aspect of the trial is allowing tesco.com customers to use augmented reality at home via this site. The idea here is that you hold products or your clubcard or a catalogue up to the webcam and you then get an "augmented experience".
If for instance you would like to see how a new television would look in your living-room you can project it into position using your webcam and a product code.
I've not really explained that very well - and I think that's the problem. When you see it in action, augmented reality is great fun. But the concept is difficult to get across to new users. And at home, you need to download new software and jump through a series of hoops to get started.
Many may decide they would rather just get on with their shopping, though Rob Salter says that he has watched customers confronted with the AR project in stores and they seem to find it pretty intuitive.
If AR is in its infancy, QR codes have been around for a while and the square barcode symbols that take you online when you point your phone at them are popping up everywhere.
The most startling example I've seen was in adverts placed above each urinal in the toilets at a motorway service station.
And this week 20th Century Fox and HMV teamed up to launch what they describe as the UK's first virtual store to sell BluRay and DVD movies.
The stores are actually posters on bus-stops with QR codes on each image of a DVD or Blu-Ray. Point your phone at them and they take you to the HMV online store where you can buy them.
Both firms believe that busy shoppers will welcome the opportunity to do a bit of Christmas shopping while they hang around for a bus. Maybe... though I've yet to see much evidence of QR codes catching the public imagination here in the UK as they appear to have done in Asia.
HMV and Fox admit their QR venture was in part inspired by this rather more impressive virtual grocery store (right).
It is at a South Korean subway station and allows passers-by to scan items using QR codes and then have them delivered to their homes.
And, believe it or not, this is a Tesco store. The firm's Korean HomePlus chain is testing the theory that commuters would rather do some virtual shopping on the way home than lug heavy bags from a real store.
So British retailers have been pioneers in using the latest technology. The trouble is that consumers here have been far slower to embrace new gizmos than their counterparts in South Korea or Japan.
And by the time Tesco and Fox have got shoppers to understand AR and QR, they may be out of fashion.
After all, in Asia, NFC - Near Field Communication - is now built into many phones, with millions swiping their mobiles to get on the train or to buy a coffee. Another new acronym that British retailers will have to decode for shoppers.