Bye-bye PC, hello smartphone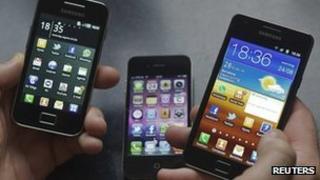 Here are two views of the world. The technology industry is tumbling into an abyss, as a global economic anxiety attack makes consumers ever more reluctant to spend. Or, despite the gloom, gadget hounds refuse to stop buying the latest devices as the mobile internet takes off. Take your pick, according to two new sets of figures from firm Gartner.
Yesterday the research firm published figures on the PC market in Western Europe. They showed that overall shipments fell by 11.4% in the third quarter of 2011 compared with the same period last year.
The consumer market saw bigger falls, down 18%, despite the fact that this period usually sees sales boosted up back-to-school purchases. Of the five biggest players, all except Asus and Apple - which both enjoyed growth of around 20% - saw chunky falls in sales.
And the worst hit segment? Something called mini-notebooks - netbooks to you and me - down 40% on a year ago. Netbooks seemed to be the next big thing in mobile computing a couple of years ago - until the iPad came along and PC makers decided the future of their industry was tablet-shaped.
But today came much better news for the consumer electronics industry. Gartner's latest figures for the global mobile phone market show sales up 5.6% in the third quarter compared to last year. That's relatively modest, with most of the growth coming from emerging markets rather than Western Europe or the United States.
But it's the 42% growth in smartphone sales which really catches the eye. Smartphones, which tend to be higher margin products, now account for a quarter of all mobile sales. And there has been a big shift in the make-up of the market over the last year.
Google's Android operating system now accounts for 52% of smartphone sales, more than twice as much as a year ago. Whereas Symbian, the operating system that Nokia is effectively abandoning in favour of Windows Phone 7, saw its share tumble from 36% to 17%. Then comes Apple's iOS iPhone operating system with 15%. And a year after the launch of Windows Phone 7, Microsoft's share of the smartphone market is actually down from 2.7% to 1.5%.
Now we should not read too much into two sets of figures. But, hey, let's have a go.
So the overall message from Gartner seems to be that the PC has entered a period of decline, that netbooks are dead, mobile computing is the future, Android is winning the smartphone wars, and Microsoft and Nokia have already been left behind in the most important technology industry of the next decade.
Then again, this time next year, the world may have changed again.