UK faces superfast digital divide say network providers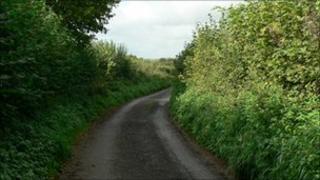 Broadband firms have warned that a new digital divide is emerging.
Speakers at the Westminster eForum said that around 10% of the UK will not be able to get superfast broadband in the next decade.
Government funds set aside to address so-called notspots were insufficient, they said.
BT said that EU targets for all citizens to have speeds of at least 30Mbps (megabits per second) by 2020 were "impossible to achieve".
Meanwhile Fujitsu revealed more about its plans to fill in the UK's broadband blackspots.
The Japanese electronics giant burst onto the UK broadband scene in April, pledging to offer a fibre-to-the-home network to the third of the country bypassed by commercial broadband rollouts.
Using the £530m pot of government money set aside for rural broadband, it said that it could create a fibre-to-the-home 1Gbps (gigabit per second) network for around 5 million users within five years.
But it has been slow progress. So far Fujitsu has bid to build fibre networks in just three areas - Wales, North Yorkshire and Cumbria.
In two areas, including the Highlands and Islands, it decided that the sums simply did not stack up.
"Even with government funding there are parts of the UK where the business case will not work," said Bill MacKenzie, Fujitsu's business unit director.
Ferrari?
It was a view backed by rival BT, which is bidding to provide fibre networks in the same areas.
Sean Williams, group director of strategy and policy at BT, told delegates that current funding would reach 90% of the UK.
For those in the 90% the future was bright. He predicted that "over half would have speeds of more than 100 megabits" before 2020.
This would put the UK on schedule to meet an EU goal that half of its citizens should have access to at least 100Mbps by that time as well as propelling the UK to the top of the European speed league tables.
But the other key EU broadband target - to have all member-state citizens on a minimum speed of 30Mbps by 2020 - was "not achievable for any country", said Mr Williams.
In the UK the 10% left behind might be a small minority but the gap between them and the others would be huge said Alastair Davidson, Arqiva's managing director of mobile.
"The 90% will have a Ferrari and the 10% a bicycle," he said.
Buying networks
The £530m set aside by the government to plug notspots comes from a fund originally intended to help the digital switchover. A further £300m will be available after 2015. All of the money has come from the BBC licence fee.
The money has been divided out among local authorities who in turn put out tenders to network providers.
Cumbria got one of the largest shares of the £530m pot, with over £17m to cope with its 96.2% of homes eligible for subsidies.
By contrast, London got nothing as the government assumed that private investment would cover the whole of the capital.
Both BT and Fujitsu agreed that the current bidding process between fibre providers and local councils was proving slow and complicated.
"I wouldn't want to criticise anyone because this is a difficult process. Councils are not very well equipped, when was the last time a council bought a network?" said Mr Williams.
Mr MacKenzie called on the government to "speed things up" if it wanted to achieve its target of being the best place for broadband in Europe by 2015.
"2015 might seem a long time away but it is not in network building terms if we genuinely want to bring superfast broadband to the final third," he said.
Other technologies which could boost broadband in remote areas include wireless and satellite but neither provides the speeds offered by fixed line solutions.