Hacker targets rugby fan site after Dax mix-up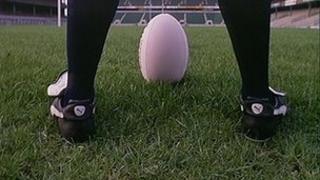 A French rugby fan site is back online after an apparent case of mistaken identity.
Owners of the AllezDax website said they believed a hacker had confused them with the Frankfurt stock exchange.
They said the attacker "insulted us copiously in German", having assumed the site was linked to Germany's blue-chip share index, the Dax.
"Our defences were certainly inadequate," one of the group told the France Blue Gascogne radio station.
The site administrators said their web pages were bombarded with 80,000 hits as part of the attack.
They normally receive up to 1,200 visits a day when the local rugby team, in the southwest of France, is playing.
A message on AllezDax's homepage said "After suffering an attack by a spotty young Teuton, the site is back with more security.... Not everything is back up yet, but it will get better over the coming days."