Newzbin claims BT block 'not working'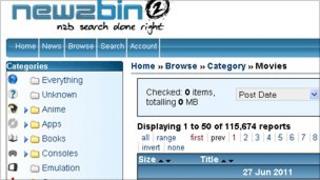 BT has started blocking access to the controversial website Newzbin 2.
But the group behind the site claims that its users are still able to access it via a workaround that it issued in September.
Newzbin 2 is a members-only site which aggregates a large amount of the illegally copied material found on Usenet discussion forums.
Last month the movie industry won the right to impose blocks via BT.
BT told the BBC that the block had come into force on 2 November.
It is implementing the blocks by tweaking software developed to prevent users from finding websites showing images of child abuse.
"Newzbin have offered their customers a client for over a month that they claim will bypass Cleanfeed. However we're not in a position to comment on whether that claim is true or not," said a spokesman.
The group behind Newzbin 2 commented: "We've heard that the British Telecom censorship of the free web has begun."
It told the BBC that 93.5% of its active UK users have downloaded the workaround software.
It is not willing to reveal how the code attempts to get around the Cleanfeed block.
However, tests run by website TorrentFreak found that the program relies on encryption to hide communication between users and Newzbin2.
Another technique it uses is to route all traffic through a well-established system known as TOR, which masks the identity of users and what they are trying to look at.
TorrentFreak reports that some users are getting an error message when attempting to access the site.
Some are able to get to it by typing the raw IP address into their browser, while others are relying on the anti-blocking software provided by Newzbin.
Copyright infringement
The court case against BT was brought by the Motion Picture Association and is the first of its kind in the UK.
It is expected that other ISPs will be taken to court in coming months in order to impose further blocks on the site.
The MPA has described Newzbin as a "criminal organisation whose business model is based on wholesale copyright infringement".
The first version of the Windows program Newzbin2 members will use to get at the site was released in September. Versions for Apple's OSX and Linux are planned.
"Newzbin2 shall go on, its users shall continue to access the site and its facilities," the Newzbin team told the BBC.
"Nothing has changed and they [the MPA] have no change after paying millions of dollars in legal fees," it added.