Asus Eee Pad Transformer is Stuff's gadget of the year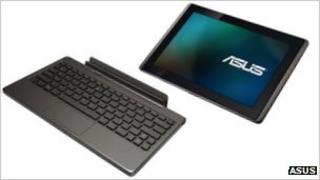 A hybrid laptop-tablet computer is the unexpected winner of Stuff magazine's gadget of the year award.
Asus's Eee Pad Transformer beat the iPad 2 to the top prize, despite stronger demand for Apple's device.
It is a marketing coup for the Taiwanese company ahead of the busy Christmas shopping period. It may also aid Asus with the imminent launch of an upgraded version of its product.
However, other journalists voiced surprise at the choice.
"Despite the iPad 2 being a finer tablet in the purest sense, the Asus Eee Pad Transformer offers so much more," Stuff's consulting editor, Simon Osborne-Walker, told the BBC.
"The clip-on keyboard means it can be as much about productivity as leisure.
"Best tablet? No. Best netbook? Probably not. But as a combo of the two - awesome."
Competition
It is the second time in less than a month that Apple has missed out on one of the UK's leading technology awards.
T3 magazine picked Microsoft's Kinect full-body motion sensor for its Xbox console as its top gadget of 2011.
Stuff also echoed T3's selection of the Samsung Galaxy S2 as its phone of the year.
However, it was far from a complete washout for Apple. It won Stuff's tablet of the year, the magazine's readers voted the iPad 3 their most wanted future gadget, and the MacBook Air laptop was named the best computer.
Other technology journalists invited to the ceremony were caught out by Stuff's headline award.
Pocket-lint's editor, Stuart Miles, said he was "surprised", while CNET's Andrew Hoyle described it as an "unexpected decision".
Wired.co.uk's editor, Nate Lanxon, said: "The iPad 2 would have been the obvious guess. But the winner is well-deserved, regardless."
Contrasting sales
Asus recently revealed it shipped 1.2 million Eee Pads over the previous two quarters. By contrast Apple said it sold over 20.3 million iPads over a similar period.
However, Stuff's editor suggested the California-based company's lead is no reason to be complacent.
"Apple's most recent products have been more about evolution rather than revolution, which has allowed some competitors to creep up on them," Mr Osborne-Walker said.
Asus is expected to launch a successor hybrid device within the coming weeks. Analysts say the new version is likely to include a faster processor and the latest version of Google's Android system.
Other Stuff winners included Virgin's TiVo video recorder as the top home cinema gadget, the Olympus PEN E-P3 as the best camera, and LA Noire as the best videogame.