Hewlett Packard to build servers using ARM-based chips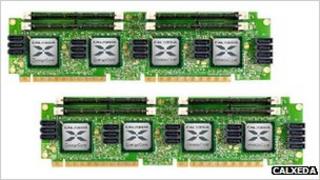 Hewlett Packard plans to make computer servers using low-energy processors based on ARM Holdings' designs.
HP said the equipment would be cheaper to run than current alternatives.
UK-based ARM's chip architecture had been developed for use in smartphones and other mobile devices.
The British firm said the deal was "a first step" towards increasing its presence in a sector dominated by Intel's X86-based processors.
Lower bills
The chips will be manufactured by Texas-headquartered Calxeda.
It said its Energycore server-on-a-chip would use as little as 1.5 watts. It claimed that is less than a tenth the power of today's most energy-efficient server processors.
Since the chips give off less heat, HP is able to put more of them in a single enclosure. As a result, it said, some companies would find their equipment took up to 94% less space.
But HP stresses the chips should be viewed as an alternative, rather than as a replacement, to Intel's more powerful products.
"There is always a trade off, you have less electrical draw but you have less processing power," David Calmers, HP UK's chief technology officer for servers, storage and networking, told the BBC.
He said the ARM-based chips would be suitable for delivering static web pages, but not tasks that involved heavy number crunching.
HP also plans to offer Intel's energy-efficient Atom processors as an alternative.
Test runs
To help customers decide what best suits their needs, the US firm also plans to open "discovery labs", so they can match their chips to their workload.
The first lab will open in Houston, Texas, and others are planned in Asia and Europe.
Mr Chalmers said he expects that by 2015, the low powered technology would account for about 10% of all servers' workload.
"Energy demands are a growing concern across our customer base. It's being felt most keenly at the hyperscale end - companies like LinkedIn or Facebook with hundreds of millions of users," he said.
"But also applications in more normal scale institutions."
ARM's designs are most commonly found in smartphones, such as Samsung's Galaxy S2, as well as televisions and tablet computers.
If Calxeda's use of its technology proves popular, it could become another lucrative licensing revenue stream. A recent report by research firm Gartner suggested HP was the world's largest server vendor, claiming about 30% of the market.
"We commend HP's innovation in this space and the investment being made to accelerate the development of a new class of compelling, energy-efficient servers," said Lance Howarth, ARM's executive vice president of marketing.
"[We] believe that ARM low-power technology and broad partner ecosystem will provide the ideal foundation for HP to drive a new wave of innovation in the server market."
However, industry watchers are more guarded, noting some customers may find the chips problematic.
"It's encouraging that HP is breaking away from the Intel monopoly. But that is what the software is designed to run on," said Chris Green, principal technology analyst at Davies Murphy Group.
"It's all very well them rolling out an ARM-based chip, but the fact is that the technology isn't necessarily going to be 100% compatible with all the software needed to run on it."