Virgin Media launches Spotify music deal tie-up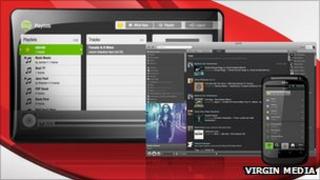 Virgin Media has released the details of its promised partnership with the Spotify music service.
New customers buying Virgin's 30Mbps or faster broadband package in the UK will receive six months of free access to Spotify's premium service.
Existing subscribers will get the same offer when they renew their contracts.
Experts believe the bundle will help Spotify compete against Apple's iTunes music store, and other streaming services such as Deezer.
Spotify Premium usually costs £9.99 a month. Spotify claimed musicians will also benefit.
"Telecoms companies moving into the music space increases revenue streams to the music industry and provides benefits for fans and artists alike," said Andreas Liffgarden, Spotify's global head of telecom business development.
Virgin Media said it will also waive related data charges for Virgin Mobile customers using the offer.
Customers who take up the deal can listen to an unlimited number of music tracks, including exclusive content, on either their computer or mobile handsets.
Virgin Media says it also plans to let owners of its Tivo video recorders stream Spotify's music directly to their television sets at some point in the future.
Competition
The announcement comes a month after the French streaming music provider, Deezer, announced a similar tie-up with the mobile network Orange.
"It helps the firms automatically boost their subscription numbers overnight," said Chris Cooke, business editor at the CMU music news service.
"One would assume that both may be looking to sell out or float their stock at some point in the future, and this will build confidence."
Spotify may also benefit from the opportunity to reach an older audience than it typically appeals to, especially if the new users take out a subscription once the promotion period ends.
However, previous efforts to link music and telecoms packages have not always proven fruitful.
BSkyB closed its music service, Sky Songs, at the end of last year. It said it had been "unable to reach a large enough customer base" for its £4.99 per month offer.
"We think the dynamic route to market is the mobile one, like Deezer's with Orange," said Alice Enders, music expert at Enders Analysis.
"Selling music subscriptions to broadband households has the problem that the account holder isn't necessarily the one who listens to the most music.
"Free offers often promote experimentation, but it can be hard to get people to dig into their pockets afterwards."