Angry Birds developer Rovio to open stores in China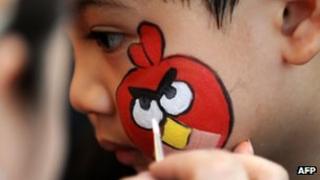 Angry Birds maker Rovio has announced plans to open stores in China within 12 months.
Unofficial merchandise connected to the videogame has already proved popular in the country.
The company's chief marketing officer, Peter Vesterbacka, made the announcement at the Techcrunch conference in Beijing.
He said he was targeting $100m (£62m) in sales from the shops in their first year of operation.
"On the physical side, we don't have a lot of our officially licensed products out here, so we have ourselves to blame," he told the conference.
Mr Vesterbacka said he had been to China many times "checking out the Angry Birds' presence".
He told delegates he was unhappy with the quality of the unofficial products, but had also gained "a lot of inspiration from the copyists". The comment drew laughter from the audience.
"It is great that the brand is so loved," he added.
Egg hunt
The China rollout is planned to precede stores in the firm's native Finland.
Angry Birds was first released through Apple's App Store in 2009.
The game's surreal premise is that a group of pigs have stolen the Angry Birds' eggs, provoking retaliatory attacks.
Players use a slingshot to launch the birds at the pigs' defences, in order to progress.
The title has been downloaded more than 50 million times in China alone and Rovio hopes to double that figure.
The company indicated earlier this month that it may float its stock in 2012.
It is not surprising that Angry Birds merchandise has proved so popular in China, according to Robert Gregory, global research director at Planet Retail.
Animal-based characters are already an established part of the popular culture there.
But he warned that Rovio would also be taking a risk with the move.
"The danger is that all trends come and go, and a year or two down the line are people going to get bored of Angry Birds and move on to the next game," he said.