SeeSaw video-on-demand television website is shut down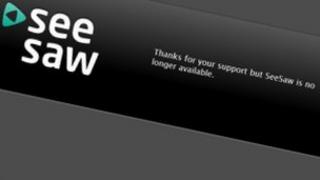 The British streaming television service, SeeSaw, has been closed down.
The website had been online less than two years, offering content from BBC Worldwide, Channel 4, Channel Five and several production companies.
A group of investors led by Criterion Capital Partners took a majority stake in the business in July. CCP also owns the social network Bebo.
Experts said the business was squeezed out by bigger players in the online video market.
SeeSaw was created by the media services company, Arqiva, in February 2010. It used assets from the aborted catch-up TV platform, Project Kangeroo, which had been rejected by the UK's competition regulator.
It offered a range of free-to-watch programmes supported by advertising, with an optional fee to turn the adverts off. It also had premium pay-to-watch shows.
The company said it intended to extend the service beyond TVs to set-top boxes and games consoles. However, it only ever managed a "test service" on the Boxee internet TV device.
In January this year Arqiva put the service up for "strategic review", leading to the sale of a 75% stake six months later.
The San Francisco based investor, Criterion Capital Partners, became the new majority stakeholder.
'Lack of content'
Channel 4's former chief executive, Michael Jackson, was announced as the firm's new chairman designate. However reports suggest he walked away from the post in September shortly after Channel 4 pulled its content.
Channel Five removed its shows around a fortnight later.
"Having completed the sale of SeeSaw in July, Arqiva is very disappointed by the failure of the new investors to provide their committed funding," the company told the BBC.
"Without that funding the service had to close."
Criterion Capital Partners could not be reached for comment.
"In the end they didn't have the backing they needed to make it - the kind of content that drives significant levels of usage," said Ian Maude, head of internet at Enders Analysis.
"They were in a very competitive market. ITV wouldn't supply them content, and Channel 4 only did for a while. With competition from Google's YouTube they just didn't have a chance."
The battle for viewers is set to intensify further over the next year.
The US film and TV service Netflix announced earlier this week that it will launch a streaming service in the UK in 2012. US retailer Amazon is also investing in its rival LoveFilm product, and YouTube launched its UK film rental platform earlier this month.