Amazon reveals its patent lawsuits are on the rise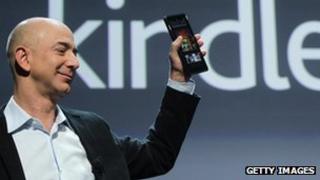 Amazon has revealed that 11 companies have filed patent lawsuits against it since the start of the year - more than three times as many as in all of 2010.
The online store made the declaration in a filing to US financial regulators.
The complaints include claims that Amazon's sales systems infringe another firm's intellectual property, and that its Kindle ebook devices use technologies owned by two others.
Amazon says it disputes the claims and intends to "vigorously defend" itself.
The US firm's filing reveals that it has been accused of infringing a total of 30 patents since January.
Of those two have been dismissed, including a claim by MasterObjects, a Dutch developer specialising in search result software.
The software firm had claimed that Amazon's drop-down search suggestions infringed one of its US patents. However, the case was thrown out in August.
One of the active lawsuits involves a company named LVL Patent Group. It claims Amazon's mobile applications and other technologies breach four of its innovations.
The Virginia based litigator also launched claims against Apple, Siemens, Hewlett-Packard and Nokia, among others, in September.
Legal activity
The lawsuits mark an upswing in legal activity.
Over the whole of 2010, Amazon's filing suggests it was sued by three claimants over a total of four patents. Amazon settled one of the cases and still disputes the others.
"It is quite common in the technology industry to have aggressive patent litigation," said Andrea Matwyshyn, assistant professor of legal studies at the University of Pennsylvania's Wharton School.
"In fact, the volume against Amazon pales compared to other industries such as the mobile phone sector, which is involved in a series of patent wars."
However, Amazon's legal troubles may mount following the launch of its first tablet computer.
"These lawsuits can only continue to increase, especially as Amazon makes more hardware," said Colin Gillis, senior technology analyst at BGC Partners.
"The field is clogged with lawsuits, particularly with products that run on Google's Android software, which its new Kindle Fire tablet uses."
Amazon's best defence may be to secure patents of its own. Its most recent filing involves a gift card which allows the buyer to restrict what products the recipient can choose.