RIM faces compensation lawsuits over Blackberry outage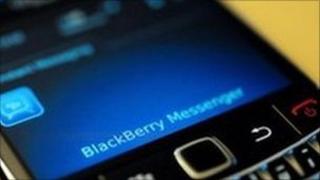 Blackberry customers in the US and Canada are suing Research in Motion over the recent global outage which left millions without email, instant messaging and net access.
A Canadian lawsuit, filed on Wednesday, was brought on behalf of all Blackberry owners in the country, and accuses RIM of breach of contract.
A similar complaint has been filed in the US.
RIM told the BBC it "had not been served with a complaint at this time".
"RIM will formally respond to the matter in due course," a statement from the firm read.
The lawsuit claims that RIM "is responsible for Blackberry users' loss of email, BB, and/or internet service for approximately one and a half days".
"It has not compensated consumers on a prorated basis for such loss of use, while knowing full well that Blackberry users pay a monthly fee to their wireless service providers for data services and that they were deprived thereof."
The outage, caused by a system failure and compounded by the failure of its back-up system, began on October 10 and lasted four days.
Snowball effect
RIM co-founder Mike Lazaridis apologised for the outage and offered all customers a package of free software.
The apps, which RIM claims are worth more than $100 (£63), are available until the end of December.
Malik Saadi, principal analyst with Informa Telecom & Media thinks action suits like these could be just the beginning.
"If the consumer forums get involved they could mobilise individuals into seeking compensation and there will be a snowball effect," he said.
Informa has estimated that RIM could find itself faced with a $25m (£16m) compensation bill.
"That is not big money compared to revenues. The biggest damage is to its brand and that could take years to cure. If I was RIM I would just compensate users quickly," said Mr Saadi.
So far no operators have pursued compensation from RIM and Mr Saadi thinks it is "unlikely" any will. However, some have suggested they will offer their own packages to customers.
"In the Middle East, two operators are talking about compensating customers although there are no details about how it will work," he said.
Communication
The four day crash could not have come at a worse time for Blackberry, which has seen profits fall in recent months.
Sales of its flagship tablet, the PlayBook, are not going as well as expected and earlier this week the firm announced that it was delaying a software update to the device.
RIM was criticised for not responding quickly enough to customers when the crash occurred.
Thousands of people turned to Twitter and other social media networks to voice frustration with the company and its efforts to fix the problems.
The firm noticeably stepped up its communication activities as the outage dragged on.