BT given 14 days to block access to Newzbin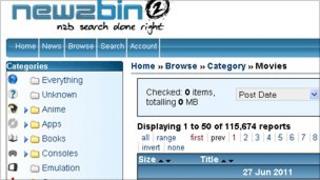 BT has 14 days to block access to a site that links to pirated movies, a judge has said.
It follows a High Court ruling in July, ordering the internet service provider (ISP) to block access to Newzbin 2.
Newzbin 2 is a members-only site which aggregates a large amount of the illegally copied material.
It is the first time that an ISP has been ordered to block access to such a site and it is expected that court orders against other ISPs will follow.
The landmark case, brought by the Motion Picture Association, has been hailed as a victory for the creative industries which have struggled to keep the problem of online piracy at bay.
The MPA said it was pleased that the block could now begin.
"This is a win for the creative sector. Securing the intervention of the ISPs was the only way to put the commercial pirates out of reach for the majority of consumers," said Chris Marcich, president and managing director of the association.
"This move means that we can invest more in our own digital offerings, delivering higher quality and more variety of products to the consumer."
Lord Puttnam CBE, President of the Film Distributors' Association added: "This is a very significant day for the UK's creative industries. The law is clear. Industrial online piracy is illegal and can be stopped."
BT has also been ordered to pay the costs of implementing the block, something it had argued it should not have to do.
"The judge ruled that the ISP is closely related to the wrongdoing, it happened on its pipes and therefore it should pay," said Simon Baggs, a partner at Wiggin LLP law firm.
"That is significant because it means the rightsholders have found a cost-efficient remedy to blocking these sites."
Sites that link to pirated films and music are becoming the new focus of the creative industries. Traditional peer-to-peer software, which was once the main method of sharing free content, is now believed to account for just a quarter of piracy.
Blocking is also a more attractive option for rightsholders than suing individual file-sharers.
BT remained tightlipped about the verdict, saying simply that "it is helpful to have the order now and the clarity that it brings".
The firm will use its CleanFeed software, created in partnership with the Internet Watch Foundation, to block websites that show images of child abuse.
The company has always said that it would not be a simple task to tweak the software to block other sites.
Legal alternatives
Newzbin 2 has had a chequered history. Described by the MPA as "a criminal organisation whose business model is based on wholesale copyright infringement," the site's owners have proved resilient to attempts to shut it down.
When the original Newzbin was forced to close via an earlier court case, a successor quickly set up outside UK jurisdiction.
Those who run the site have said that they are readying software that will get around the BT block.
Critics of site blocking have always argued that the real solution to piracy is to provide affordable legal alternatives.
Last week the Open Rights Group (ORG) published a study into how much legal content is available.
It found that only 43% of the top 50 British films can be bought or rented online, while only 58% of the BAFTA Best Film awarded winners since 1960 have been made available.
Peter Bradwell, an ORG campaigner, said the ruling set a "dangerous" precedent.
"Website blocking simply will not work. It's a dangerous technological intervention when the legal markets are still a mess," he said.
"Consumers have moved online a lot quicker than the creative industries. The focus should be on making sure they catch up with consumer demand instead of these deranged plans to censor what people are allowed to look at."