United Nations sets global broadband targets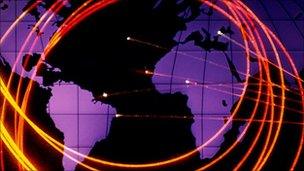 The United Nations has set "ambitious" new targets for broadband uptake around the world.
It calls on all countries to put in place broadband strategies by 2015.
By that time it wants to see 60% of people in the developed world online, with a slightly lower target of 50% for people living in the developing countries.
It also wants net access to be made available to 40% of households in the developing world by 2015.
It emphasised that broadband services must be "affordable" - amounting to less than 5% of average monthly incomes.
The four targets have been set by the UN's broadband commission for digital development.
"These targets are ambitious but achievable, given the political will and commitment on the part of governments, working in partnership with the private sector," said Dr Hamadoun Toure, the secretary-general of the International Telecommunication Union (ITU).
The ITU will be charged with measuring each country's progress towards the targets, with an annual broadband report, ranking nations in terms of broadband policy, affordability and uptake.
To coincide with the new goals, the ITU has unveiled a mini-report looking at the current state of connectivity around the world.
It finds that internet users now makes up 20% of the world's population up from 13% in 2008.
The report shows that the world's top broadband economies are all located in Europe, Asia and the Pacific.
While the majority of broadband connections in the Republic of Korea run at speeds of at least 10Mbps (megabits per second), countries such as Ghana, Mongolia, Oman and Venezuela offer much slower connections, rarely exceeding 2Mbps.
Oliver Johnson, an analyst with research firm Point Topic, thinks that new league tables will force countries to think about broadband.
"Countries have to pay attention or risk becoming seriously uncompetitive," he said.
He also expects to see the EU making it easier for customers to buy services from a wider range of providers.
"Why can't you buy your football feed from Greece or your IP or broadband service from the organisation that offers the best price, regardless of where they are in Europe?" he asked.
In the UK it is estimated that 8.7 million adults have never used the internet.
Race Online - the body charged with getting more people using the net - has begun a new campaign urging net-savvy individuals to 'give an hour' to someone new to the web.