iPod creator switches attention to 'smart' thermostats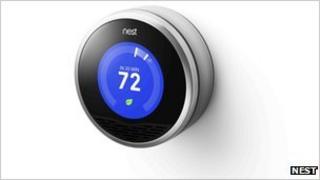 The man known as the "godfather" of the iPod has invested his energy in a home appliance: a thermostat.
Tony Fadell caused surprise when he quit Apple in 2008 after heading its music player division. Fortune magazine once tipped him as a successor to former chief executive, Steve Jobs.
Mr Fadell has now revealed his efforts went into the Learning Thermostat.
The smart device adjusts the temperature based on the presence of people and their habits.
It can "learn" about a house's cooling and heating patterns to optimise its performance, and adjust itself to the weather conditions.
Mr Faddell said the device could cut 20 to 30% off the average household's energy bill.
He said it is also possible to control the $249 (£156) thermostat remotely via a smartphone app.
The price is around fifteen times the amount that basic thermostats sell for in the US.
Smart gadgets
There are also alternative "smart" models on the market.
A Canadian firm Ecobee produces web-connected programmable "green" thermostats.
But according to Mr Fadell's company, Nest, the Learning Thermostat is more user-friendly, and has the advantage of being able to "observe" household members and their surroundings.
Using a motion sensor, it can detect whether or not anyone is home - and if the house or flat is empty, it goes into the energy-saving mode by turning down the heater or air conditioner.
Beyond thermostats
Smart thermostats are just one kind of the growing number of "intelligent" devices that are connected to the web and able to interact with humans and among themselves.
Smart meters and smart grids are among the best known ones, but companies are also experimenting with smart parking places, smart tags at retail stores and even a so-called Urban operating system aimed at controlling devices of a future smart city.
The tech website CNET, which interviewed Nest's co-founder Matt Rogers, says the start-up is likely to move beyond smart thermostats in the years to come.
"You don't hire a crack team to build a product. You hire them to build a company," the site quoted Mr Rogers as saying.